Europe Stocks Cap Best Two-Day Gain Since 2011 on Greek Optimism
Namitha Jagadeesh and Roxana Zega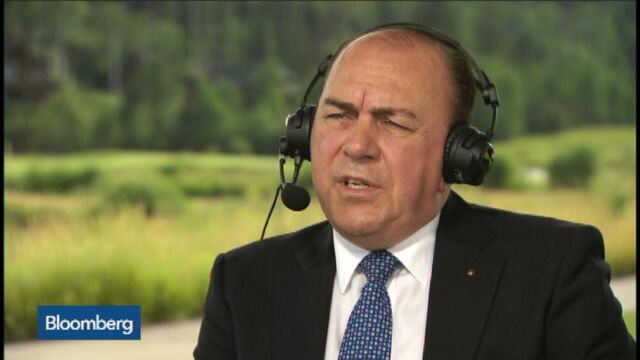 European stocks extended a rally after Greece's offer to meet most of its creditors' demands stoked speculation of a deal.
The Stoxx Europe 600 Index rose 2 percent to 388.8 at the close of trading, taking its two-day gain to 4.3 percent. The gauge extended gains intraday after a European Union official said the region's leaders needn't hold a summit Sunday if the so-called Eurogroup of finance chiefs reach an agreement earlier. Benchmark gauges of Spain, Italy and France, which entered corrections on Monday, surged 3 percent or more.
Greece sought 53.5 billion euros ($59.5 billion) in aid, submitting to European institutions a proposal that almost mirrored one by creditors on June 26. Greek voters had rejected that plan in a Sunday referendum, sending stocks tumbling. The Greek stock exchange will remain shut through July 13.
"The market is quite satisfied that the Greek government made a proposal that the Greek people denied on Sunday," said Guillermo Hernandez Sampere, who helps manage about 150 million euros as head of trading at MPPM EK in Eppstein, Germany. "At the end of the day, the fear of a Grexit hasn't affected the market too much. The recovery this morning was because of the fast money that was shorting during the week in expectations of a disappointment."
Back-and-forth talks between Greece and its creditors have choked gains on the Stoxx 600. The gauge slid almost 10 percent from its April record through Tuesday. Shares then rebounded, pushing the gauge up 1.4 percent for the week. A gauge of volatility expectations for euro-area stocks slid 9.4 percent on Friday.
Greece Effect
Banks contributed the most to gains in the Stoxx 600, with Banca Monte dei Paschi di Siena SpA and BNP Paribas SA adding at least 4 percent. DNB ASA jumped 4.6 percent after Norway's biggest lender reported profit that beat analyst estimates.
The options market is signaling the longer-term cost of protecting against losses in lenders is near the cheapest since 2012 versus one-month contracts.
InterContinental Hotels Group Plc climbed 3.1 percent after agreeing to sell its Hong Kong hotel for $938 million to investors including Pioneer Global Group. United Internet AG surged 6.4 percent after buying Polish website Home.pl and saying it will consider an initial public offering for its business applications unit.
EMS-Chemie Holding AG rose 5 percent after reporting an increase in first-half earnings. Tryg A/S gained 1.1 percent after posting better-than-forecast quarterly net income.

Read this next: