business
Europe Weighs Greek Proposal as Tsipras Seeks Lawmaker Support
Nikos Chrysoloras, Ian Wishart and Arne Delfs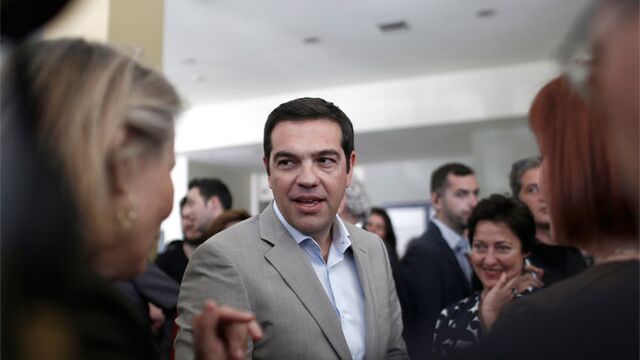 France praised a Greek package of reforms while other nations voiced skepticism, as lawmakers in Athens prepared to debate whether to support Prime Minister Alexis Tsipras's plan to access a bailout of at least 53.5 billion euros ($60 billion).
The packet of spending cuts, pension savings and tax increases was being studied on Friday by the European Commission, the International Monetary Fund and the European Central Bank after it was submitted late the previous day.
While the German government said it will wait for the institutions to make their assessment, French President Francois Hollande said in a rare Twitter post that the reform proposals were "serious, credible" and demonstrated Greece's determination to stay in the euro area. Lithuanian President Dalia Grybauskaite voiced pessimism, saying the new offer "will really not be enough," Reuters reported.
"If there's broad support in Greece, it gives more credibility," Dutch Finance Minister Jeroen Dijsselbloem, who will chair an emergency session of his euro-area counterparts in Brussels on Saturday, told reporters in The Hague. "But also then we have to see whether the proposals are good, if it gets Greece really out of the crisis."
The euro and stocks surged on the prospect of a deal to end a near-six-month standoff between creditors and Greece's Syriza-led government since it came to power in January on an anti-austerity platform.
Creditor Proposal
In an 11th-hour bid to stay in the euro, the government offered to meet most of the demands made by creditors in exchange for a third rescue to "fully cover" Greece's financing needs through 2018. The bailout from the European Stability Mechanism may amount to 59 billion euros, according to a person familiar with the discussions.
The package almost mirrored that from creditors on June 26 -- which was rejected by Greek voters in a July 5 referendum.
Chancellor Angela Merkel's government pointed out that discussions then only covered a five-month extension whereas the new program request is for three years, so would have to include tougher conditions than addressed at the end of June.
"The agreement probably won't be very different, very far from the one discussed 15 days ago," Italian Prime Minister Matteo Renzi said at a press conference in Rome with Irish Premier Enda Kenny, adding that he was "more optimistic than in the past" about a deal for Greece.
That optimism rubbed off on markets, with the euro up 1.2 percent against the dollar as of 5 p.m. in Frankfurt. It jumped the most in more than two years against the yen. The Stoxx 600 Index surged 1.9 percent.
Debt Pressure
Though Tsipras ceded ground, he insists long-term debt needs to be made more manageable to allow Greece to recover from a crisis that has erased a quarter of its economy. He has a growing support base that includes the U.S., European Union President Donald Tusk and the IMF.
It remains to be seen if the reforms are enough to appease the creditor institutions. Their assessment "will probably be presented only during tomorrow's Eurogroup meeting," Finnish Finance Minister Alexander Stubb said in a statement.
If the so-called Eurogroup of finance ministers from the 19-nation currency bloc can reach an agreement on Saturday, then leaders may not need to gather as planned on Sunday, according to an EU official.
Even if a basic agreement is struck, hurdles await Tsipras and Merkel in their respective parliaments. While Merkel's Social Democratic Party coalition partner gave an initial welcome to the proposals from Greece, Tsipras may face a rougher ride from his Syriza bloc.
"It seems quite likely that Tsipras will have to rely on opposition votes for this to pass, which means that from his personal perspective the referendum actually did a lot of good, as he is now the only credible leader of a national unity government," Jacob Kirkegaard, a senior fellow at the Peterson Institute in Washington, said in an e-mail.
(For more news and data on Greece, see here.)
Before it's here, it's on the Bloomberg Terminal.
LEARN MORE