markets
Chinese Equity Funds Just Saw Their Biggest Inflows Ever
Some $13 billion poured into Chinese stocks
By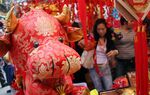 Chinese equity funds just saw a huge influx of investment, despite the big bear market that recently wiped out about $3.9 trillion of the country's stock market value.
According to a new report from Bank of America Merrill Lynch's Michael Hartnett, $13 billion flowed into Chinese equity funds in the week ended July 8, the highest amount on record.
The analysts aren't entirely sure what's behind the big move, though they do note that most of the money poured into the A-shares reserved for local Chinese investors. Here's what they say:
[There's been a] record $13bn [of] China equity fund inflows; perversely concentrated in local-listed A-share ETFs so could signal market-support measures rather than private sector demand; alternatively big, counter-intuitive fund inflows at time of Shanghai weakness could be due to share-creation to "short" underlying assets.
Translation: It could be anything from Chinese government support measures to more technical reasons, such as a bunch of exchange-traded fund participants creating the shares needed for investors to short Chinese stocks.

Whatever the reason, the chart of the $13 billion inflow does look pretty dramatic.

Before it's here, it's on the Bloomberg Terminal.
LEARN MORE