Photographer: STR/AFP/Getty Images
China's Stock Market Selloff Explained in Six Charts
The great gyrating stocks of China
by
Yes, Chinese equities have bounced back over the last two days, but they've still shed more than $3 trillion in value in less than a month. Here are half a dozen ways to consider the market malaise.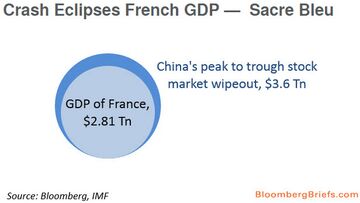 From their peak on June 14, Chinese listed stocks lost $3.6 trillion in value by July 9, according to Bloomberg's China Market Cap index. That's comfortably more than the entire economic output of France.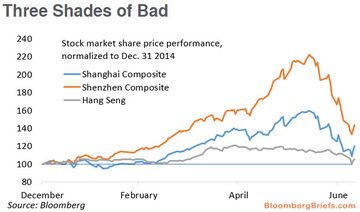 The chart above says it all. The Shenzhen Composite has cratered. Despite the bounce in stocks on Thursday and Friday, the benchmark has given up more than 75 percentage points of return for the year.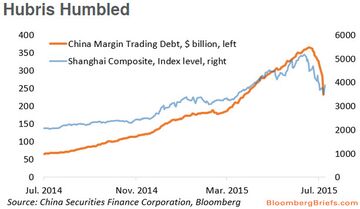 Chinese investors took increasingly leveraged punts to chase the stock market higher. Margin debt rocketed more than five-fold in less than a year, overshot the top of the equity markets and then fell like the spirits of a reckless gambler.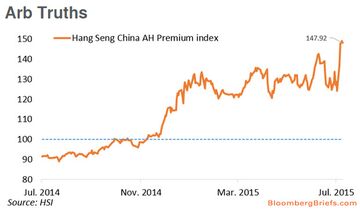 When shares in a company are listed across different exchanges, arbitrageurs are quick to trade away any discrepancies. That market axiom doesn't currently apply in China, where local exchanges allowed more than 1,400 companies to halt trading in their shares. A-shares listed on the mainland were 49 percent more expensive than their Hong Kong equivalents on Thursday — the widest premium since March 20 2009.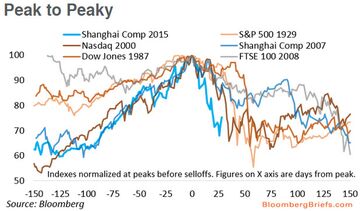 China's stock market crash has been brutal and it could get worse. While it's yet to match the declines of other notable burst bubbles, the speed of the Shanghai Composite's recent descent from its peak is exceptional. Arguably no other stock market crash has seen sentiment flip so quickly from greed to fear.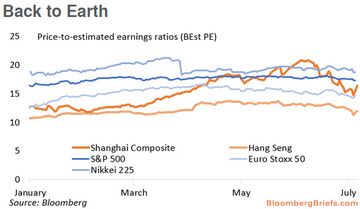 The price to estimated earnings ratio of the Shanghai Composite is now back below that of the S&P 500 index. Have equities reached a floor? Kinger Lau, a Goldman Sachs China strategist in Hong Kong, predicts that large companies will rally 27 percent from Tuesday's close. 
This story first appeared in Bloomberg Brief's special edition on China.
Before it's here, it's on the Bloomberg Terminal.
LEARN MORE