Airbus Police Radio Said to Attract Alcatel, Thales Interest
Marie Mawad, Andrea Rothman and Francois de Beaupuy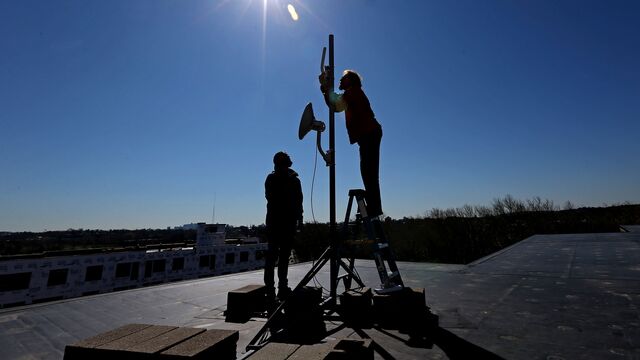 Alcatel-Lucent SA and Thales SA are evaluating bids for Airbus Group SE's radio business that provides communications services to the police and military, according to people familiar with the matter.
The assets, with revenue of more than 500 million euros ($550 million), are part of the communications, intelligence and security unit Airbus is carving out by the end of this quarter, said the people, who asked not to be identified discussing private deliberations. Talks are more advanced with Alcatel than with Thales, which had a preliminary offer rejected because it values the business at less than half of the 1 billion euros that Toulouse, France-based Airbus wants, they said.
BAE Systems Plc and Cobham Plc are also among potential bidders, said one of the people.
Any deal, which isn't imminent, would attract government scrutiny. Airbus customers would prefer a European buyer because of business contracts with some of the most sensitive national security teams in France, Germany and the U.K. as well as emergency squads such as the police, the people said.
Critical networks, built to survive extreme conditions to allow for the likes of emergency calls and confidential national security communications, are becoming more similar to standard phone networks as they evolve to include videos and multimedia content. Some of the systems are more than a decade old and costly to maintain for Airbus, which announced plans last September to streamline its defense activities.
Nokia Roots
Representatives for Alcatel, Thales, BAE, Cobham and Airbus declined to comment on the sale of the radio business.
Alcatel and Airbus have been working together to develop products for the public-safety market in the U.S. The network-equipment maker agreed in April to be sold to Nokia Oyj and is currently focused on completing that transaction.
A deal with Alcatel would reunite the radio assets with its former owner. Airbus had acquired the business from Nokia a decade ago for about 90 million euros.
For defense companies like Thales and Cobham, secure communications are one way to grow revenue with customers such as governments. Thales, which is 26 percent owned by the French state, already caters to squads including the U.K. police and the London underground operations with radio networks.
Airbus shares traded 3.1 percent higher at 11:58 a.m. in Paris. Alcatel rose 3.5 percent and Thales added 1.9 percent. BAE climbed 1.3 percent in London, and Cobham was up 1.1 percent.
Read this next:
Before it's here, it's on the Bloomberg Terminal.
LEARN MORE