Scott Walker's Wisconsin Pals Priebus and Ryan Sidelined in Primary
John McCormick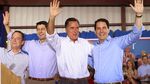 Inside a suburban Milwaukee convention hall in June 2012, Wisconsin's Scott Walker had just learned he'd become the first U.S. governor to survive a recall election when his old friend Reince Priebus hugged him.
The Republican National Committee chairman then handed Walker his iPhone. Mitt Romney, their party's soon-to-be presidential nominee, was calling with congratulations.
Priebus and U.S. Representative Paul Ryan have been conduits to national power for Walker, all three of them fortysomething products of the same patch of Wisconsin dairyland. Yet as Walker formally enters the 2016 Republican presidential race next week, his rivals will be watching for favoritism. The party's chairman, in particular, is supposed to be neutral.
"Reince is a lawyer, so he understands the concept of conflict of interest," said Pat Brady, a former chairman of the Illinois Republican Party who was a national committee member when Priebus was first elected in 2011.
Since World War II, the RNC chairman during contested primary campaigns has always been from a different state than the eventual Republican nominee. That streak would end if Walker were to win the nomination and Priebus remains until his term ends in January 2017.
Super-PACs and other outside organizations have diminished party influence in picking nominees. Still, Priebus will play a critical role in organizing sanctioned events and sharing data and other resources with candidates.
'Neumann Confidential'
Priebus has a history of looking out for Walker, 47. In 2010, Priebus was state party chairman and Walker was a Marquette University dropout who had gone on to become the Milwaukee County executive and a gubernatorial candidate.
Priebus sent Walker an e-mail warning of an attack planned by a primary opponent, Mark Neumann, a Republican maverick who had earlier ceded the party's endorsement to Walker. Priebus's subject line: Neumann Confidential.
"Neumann will be looking at two areas very soon -- the county debt and how it is calculated -- something about 'mortgaging the future' and why Walker dropped out of college," Priebus wrote.
The e-mail, released in 2014 as part of a criminal investigation into political activity in Walker's county office, shows the candidate forwarded the information to aide Cindy Archer.
"Get me all the facts I can get on the debt," Walker wrote to Archer.
An RNC spokeswoman said Priebus wouldn't play favorites among the party's 2016 field. "Chairman Priebus and the RNC have and will continue to remain neutral in the primary process until we have a nominee or a presumptive nominee," Allison Moore said in a statement.
Priebus has already indirectly helped Walker's nascent presidential campaign. Our American Revival, the political committee that's his presidential campaign in waiting, is filled with staff members tied to Priebus.
Walker's presumptive campaign manager, Rick Wiley, is a former RNC political director who worked for Priebus, as did communications manager Kirsten Kukowski. Other Priebus alumni from the RNC on Walker's team include political director Matt Mason and deputy political director Wells Griffith.
Walker and Priebus also share donors, including Diane Hendricks, a Wisconsin billionaire roofing-supply executive who is Walker's top individual giver. Before Priebus became chairman, Hendricks had given about $38,000 to the RNC since 1990, according to data from the Center for Responsive Politics. Since he took the helm, she has given more than $500,000.
Burger Flippers
Walker's rarely mentions Priebus in public appearances. More often he gives a shout-out to Ryan, the Ways and Means Committee chairman and 2012 vice presidential nominee.
It promises to be a mostly one-way conversation. Priebus has essentially removed Ryan from the primary battlefield by appointing him chairman of the party's "presidential trust."
The entity raises money that will be spent in coordination with the eventual nominee's campaign and Ryan has said it means he must remain neutral. Still, when Walker spoke in May to almost 100 members of the House Republican caucus in Washington, Ryan introduced him.
As teenagers, Walker, Priebus and Ryan were all shaped by Ronald Reagan's presidency. They also share a political godfather, Michael Grebe, president of the conservative-leaning Bradley Foundation in Milwaukee.
It hasn't hurt their friendship that each has pursued a distinct path: Walker, until now, through local and state politics, Ryan in Congress and Priebus the Republican Party apparatus.
Walker has made Ryan a good-natured punchline when outlining their shared modest beginnings, including jobs at McDonald's, Ryan in Janesville and Walker in nearby Delavan.
"Paul's manager -- honest to goodness -- actually told him that he had to flip hamburgers in the back," Walker told an audience in June, "because he didn't have the interpersonal skills to work the front cash register."