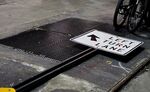 In the ongoing Vision Zero attempt to make New York City streets safer, policymakers have embraced what are known as the three E's: education, enforcement, and engineering. That last category is usually interpreted to encompass street design, including elements such as signal timing, bike lanes, pedestrian refuges, and the like.
But a new idea from a couple of members of the New York City Council extends the concept of safer engineering to include software. What if you could program safety into tools that assist driver navigation?
A couple officials think it's worth a try. Council members Brad Lander, deputy leader of policy for the council, and Ydanis Rodriguez, who chairs the council's transportation committee, wrote a letter to Google on July 1 suggesting two enhancements to the company's maps. One would create a "stay on truck routes" option for truck drivers. The other, which has a much broader application, would allow users to select "reduce left turns," minimizing the number of such turns required on a given trip.
Why reduce left turns? In their letter, Lander and Rodriguez cited an extensive report from WNYC reporter Kate Hinds about the danger of left turns by motor vehicles in an urban environment where lots of people travel on foot and by bicycle. According to data compiled by Hinds and her colleagues, 17 pedestrians and three bicyclists were killed in New York by left-turning vehicles last year. The fatality rate for pedestrians struck by drivers making lefts in the city is the highest in the nation, according to Hinds's report.
The city's department of transportation has been redesigning intersections to make left turns safer by changing signals and incorporating other design measures. But Lander and Rodriguez got the idea to ask Google to help by giving its map users the chance to request a "reduce left turns" routing option. "We haven't heard back yet," says Rodriguez. "But we hope, knowing that Google is one of those good private entities, that Google can look at this."
Google did not return our inquiry about the letter by press time.
Nationally, a quarter of motor-vehicle crashes involving pedestrians occur during left turns. A 2013 study found that when drivers make "permitted" left turns—in which they do not have the protection of a left-turn green arrow—they are not even looking to see if there is a pedestrian in their path as much as 9 percent of the time. Such turns, the study found, pose an "alarming" level of risk to pedestrians.
A "reduce left turns" Google Maps option would be similar to the left-turn reduction practice adopted by UPS way back in 2004—albeit that was in the name of logistical efficiency rather than safety. The package-delivery giant found that making right turns to reach a destination rather than lefts saves time and gas, as much as 10 million gallons of fuel in the first eight years the policy was in effect.
Rodriguez says a "stay on truck routes" option would also be helpful in a city where big rigs can pose a serious threat when they stray from designated corridors. In their letter, the council members cite a 2007 study that showed 35 percent of crashes involving trucks in the city happened off of truck routes.
In a city with 8 million residents and more than 56 million tourists visiting in 2014, says Rodriguez, traffic safety is a pressing public health issue, and he wants to see it addressed on all fronts.
"This is about continual working between the private and public sector," he says. "The first cause of death for New York City children under 13 is not gangs, it's not poverty, not violence. It's being hit by cars and trucks. This is the time for the city to reach out to the private sector, so they can help us to provide information to drivers about where you should avoid making left turns."