Taco Bell's App Is a Fix for the Munchies
The chain says customers who use it are buying and eating more
By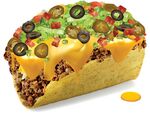 Fast food can never be fast enough. When Taco Bell introduced a food-ordering app in October, the chain figured it could speed up service for customers and cut down on wrong orders, so the next time you ask for a chicken soft taco you won't wind up with a bean burrito.
What Taco Bell didn't know was how much extra food Americans order when they do so from the privacy of their smartphones. "You don't want to say large or order extra cheese—you look like a pig," says Hope Neiman, chief marketing officer at Tillster, a company that helped develop the app. "But if I'm sitting here tapping, who cares?"
That's why Taco Bell's Live Más app, available for its 6,000 U.S. restaurants, has been downloaded more than 3 million times. Customers who use it also spend more than $10 on an average order—about 20 percent more than those who order in person, says Taco Bell.
"When you're able to swipe back and forth and put lettuce on or off your product, you start to feel like you're in control," says Jeff Jenkins, Taco Bell's former director of digital experiences. (He recently took a similar job with Whole Foods Market.)
The app is pretty easy to use, even when you're hungry: After storing your credit card information, tap and swipe to select from the menu, then hit "submit." To ensure the food is hot, the order is filled only when a customer is within 500 feet of a Taco Bell and notifies the store that he'll pick up the food inside or at a drive-thru window—the app includes what's known as a geofence to determine a user's location.
Scott Bermingham, a 30-year-old software support technician in Atascadero, Calif., eats at Taco Bell about once a week. He uses the app to order a custom bean burrito with extra sauce, extra cheese, and sour cream. He likes that he doesn't burden cashiers with his order. "Sometimes you feel bad for the person trying to get it right," he says.
Brian Niccol, Taco Bell's chief executive officer, says the app makes it easy to survey the full array of menu offerings—bacon, for example, can be added to tacos and burritos for 70¢. "This has opened people's eyes," he says. "If you've only ordered crunchy tacos from us, you might not realize we sell steak, as crazy as that sounds."
Taco Bell's same-store sales rose 6 percent in the quarter that ended on March 21, beating corporate parent Yum! Brands' two other food chains, KFC and Pizza Hut. (KFC doesn't have an app in the U.S.; Pizza Hut has one that lets customers order and pay.) The app has reinforced Taco Bell's standing with young, tech-savvy customers, says Darren Tristano, executive vice president at research firm Technomic. "Taco Bell is way, way ahead on this stuff," he says. "They were early, they put the right investment in, and they've made it a priority. They really figured it out."
Starbucks, also a leader in mobile payments, takes an estimated 8 million of them through customers' phones each week; ordering ahead is available at only about a third of its U.S. locations. McDonald's and Burger King have lagged behind on mobile ordering. Burger King's app provides coupons and locations; McDonald's has said it will release a global app this year but hasn't said whether it will take orders.
Competitors may want to replicate one odd twist of the Taco Bell experience. In early surveys by the company, customers reported that the food ordered on a smartphone tasted better. That's hard to imagine. But so was a Fiery Doritos Locos Tacos Supreme.
The bottom line: Taco Bell's ordering app, downloaded more than 3 million times, has boosted sales and made people hungrier.
Before it's here, it's on the Bloomberg Terminal.
LEARN MORE