Jobless Claims Rise to Four-Month High as U.S. Auto Plants Pause
Victoria Stilwell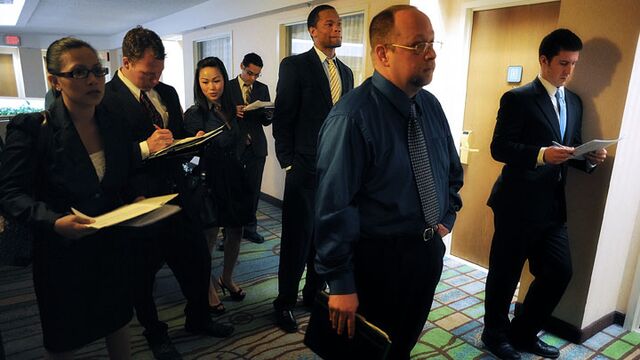 The number of Americans filing for unemployment benefits rose last week to the highest level since February, representing a pause in the pace of labor-market improvement as the nation's automakers begin temporary plant shutdowns.
Jobless claims climbed by 15,000 to 297,000 in the period ended July 4, Labor Department data showed Thursday. The motor vehicle-producing states of Michigan and Ohio were among those reporting jumps in new applications.
Even with the increase, weekly claims have been below 300,000 for 18 straight weeks, the longest stretch since 2000 and consistent with a brighter job market. Stronger demand would probably help persuade employers to boost hiring and assure companies about the U.S. outlook in the face of weaker overseas markets.
"I'm not seeing a pop in claims data as a significant sign things are deteriorating," said Tom Simons, a money market economist at Jefferies LLC in New York, whose forecast for 290,000 initial claims was among the closest in the Bloomberg survey. Applications are at a level that "suggests the labor market slack is continuing to decline and conditions are tightening overall."
The data can be volatile this time of year because of the Fourth of July holiday and temporary shutdowns of auto plants to prepare for the production of new models.
The median forecast of 48 economists surveyed by Bloomberg projected 275,000 applications, with estimates ranging from 260,000 to 290,000. Claims in the prior week were revised up by 1,000 to 282,000.
Consumer Comfort
Another report showed household confidence eased last week from the highest level since April. The Bloomberg Consumer Comfort Index cooled to 43.5 in the period ended July 5 from 44 a week earlier. Views of the economy and buying climate were more subdued.
"Consumer sentiment flattened this week after a three-week advance, perhaps reflecting concerns about global economic stability," Gary Langer, president of Langer Research Associates LLC in New York, which produces the data for Bloomberg, said in a statement.
The International Monetary Fund cut its forecast for global growth this year, citing a weaker first quarter in the U.S., and expressed confidence that financial-market turbulence from China to Greece won't cause widespread damage.
IMF Forecast
While Greece's debt crisis will have a major effect on that country's economy, it's only 2 percent of the euro-area's gross domestic product and hasn't produced much contagion so far, Olivier Blanchard, the IMF chief economist, said at a press briefing in Washington. China's stock-market slump is "very much a sideshow" that "doesn't reflect on the fundamentals" of China's economy, he said.
The world economy will grow 3.3 percent in 2015, less than the 3.5 percent pace projected in April and slower than the 3.4 percent expansion last year, the IMF said in revisions to its World Economic Outlook released Thursday. The fund left its forecast for growth next year unchanged at 3.8 percent.
The Labor Department's report showed the four-week average of jobless claims, a less-volatile measure than the weekly figure, increased to 279,500 from 275,000 the week before.
The number of people continuing to receive jobless benefits rose by 69,000 to 2.33 million in the week ended June 27.
In that same period, the unemployment rate among people eligible for benefits held at 1.7 percent.
Michigan, Ohio
Almost 9,800 more claims were filed at Michigan employment agencies than a week earlier, while Ohio reported that applications climbed 3,205.
The timing and extent of closings to re-tool auto factories for the new model year is typically difficult for the U.S. government to gauge, causing claims to gyrate at this time of year. It will probably take several weeks for the data to stabilize enough to signal whether firings are truly ebbing.
Ford Motor Co. said early last month that it planned to shorten summer vacation for workers at 14 North American factories to meet growing demand for sport-utility vehicles and its new aluminum-bodied F-150 pickup.
To churn out an extra 40,000 vehicles, Ford said it would cut the second half of a planned two-week break that started June 29, according to an e-mailed statement.
Claims Trend
"We have no reason at all to think that the underlying trend in claims has changed and once the shutdowns are over we'd expect claims to revert to 280K or so," Ian Shepherdson, chief economist at Pantheon Macroeconomics Ltd. in Newcastle, England, said in a note to clients.
Federal Reserve policy makers are monitoring measures of labor market slack as they consider moving their benchmark interest rate off its near-zero level, where's it's been since December 2008.
U.S. central bankers in June saw the economy moving toward conditions that would support an interest-rate increase, while also expressing concern about weak consumer spending and risks from China and Greece that have since intensified.
Policy makers "saw economic conditions as continuing to approach those consistent with warranting" tighter monetary policy at some point, according to minutes of their June 16-17 meeting released Wednesday in Washington. All but one "indicated that they would need to see more evidence that economic growth was sufficiently strong."