Have a Nice Campaign! Chris Christie's Present from Home-State Democrats
Voting rights bill puts Republican presidential contender in an awkward position.
By and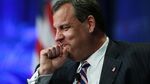 As Governor Chris Christie begins an uphill presidential campaign, Democrats in New Jersey have lobbed him a bomb in the form of a voting-rights bill he's criticized, potentially putting the Republican at odds with Democratic front-runner Hillary Clinton.
The measure, dubbed the "The Democracy Act," would expand early voting, create online registration and automatically enroll people applying for a drivers' license unless they opt out. Christie, who vetoed a bill in 2013 that would have required polls to open two weeks before elections, has said that the latest effort would raise the risk of fraud. The League of Women Voters supports the legislation.
The showdown over expanded voter rights in New Jersey puts Christie at the front of an issue that has divided the two parties in recent years. In June, Clinton denounced the "crusade against voting rights" she said had been undertaken by Republicans, and cited Christie's 2013 veto as an example. Democrats who control the New Jersey legislature say their goal is to make it easier for people who want to vote to do so. While a veto may help Christie in the short-term, by shoring up his conservative credentials as he tries to gain traction in the race for the Republican nomination, it could also dampen the crossover appeal that could make him a formidable general election candidate.
In town halls in New Hampshire and Iowa, Christie sells himself to new voters as a consensus builder and a big-tent kind of Republican able to bring in new voters. In his 2013 re-election campaign, he worked pointedly to gain the support of voters who didn't typically choose his party, enlisting a group that would come to be called "Christiecrats." He points out that he won 51 percent of the Hispanic vote in that election and gained among African-Americans.
"A lot of this stuff seems to be a concerted effort from the Democratic National Committee," Christie said June 25 in his monthly "Ask the Governor" radio call-in show. "There's no question in my mind that there are some advocates of this who are looking to increase the opportunities for voter fraud and that's not democracy either."
Veto Clock
Democrats in New Jersey rushed their bill through the legislature. It was introduced on June 22 and passed the Assembly on June 25 and the Senate on June 29 along party lines—sending the bill to Christie's desk just one day before he formally entered the presidential race. The governor has 45 days to act on the legislation, though the time may be extended because the legislature is in its summer recess.
Brian Murray, a spokesman for Christie, said Tuesday the governor will review the measure and declined to say whether he plans to sign it.
Voting rights took on new prominence when the U.S. Supreme Court voted in 2013 to throw out a core element of the 1965 Voting Rights Act. That decision opened the doors for some states with Republican governors to take steps such as requiring voters to show photo identification that they said would prevent voter fraud—and which opponents said would make it harder for minorities and the poor to vote.
Christie, in his 2013 early-voting veto message, said the effort wasn't needed because the state allows voters to cast mail-in ballots as many as 45 days early, and that it  would cost taxpayers more than $25 million.
That same year, Christie spent $12 million of Garden State taxpayers' money, according to the state's Division of Elections, to make an unusual scheduling decision for a special U.S. Senate election seat after the death of Democrat Frank Lautenberg. Instead of setting the date for the regularly scheduled Election Day, Christie picked a date three weeks earlier. Critics contended he did so to prevent the winner, Cory Booker, from topping the ticket in an election where Christie himself was also on the ballot. Only 25 percent of registered voters cast ballots in the Senate contest.
Backers of the latest effort to rewrite New Jersey's election laws see a clear rationale: In New Jersey's June primary election featuring state Assembly races, turnout was 5.1 percent of eligible voters, a 90-year low, according to an Associated Press analysis.
"Part of that's disinterest, but part of it is also that people don't vote because the system makes it harder to vote," said Senate President Stephen Sweeney, a Democrat from West Deptford. "As someone who has to put his name on the ballot every few years, I want more people to vote."
Sweeping Overhaul
Democrats have sent Christie a slew of changes in one bill. In addition to allowing early voting, online and automatic voter registration, their measure would expand the provisions for providing ballot materials in languages other than English, allow 17-year-olds to pre-register and eases rules for mail-in, overseas and military ballots.
"I don't think that people ought to be automatically registered to vote," Christie said during his radio show. "Is it really too much to ask to ask someone to fill out a form?"
Yes, said Analilia Mejia, executive director of New Jersey Working Families, which has lobbied for the measure.
"I would hope that the governor would be ashamed by the fact that New Jersey is 39th in the country in terms of terms of both registration and participation, and would sign this proposal," Mejia said.
The League of Women Voters of New Jersey has also called on Christie to sign the bill, which Executive Director Kerry Margaret Butch said is a group of initiatives that have worked in other states where they've been tested.
"Would we prefer that it had bipartisan support? Absolutely," she said. "New Jersey's voting system is woefully out of date and we've seen a drastic decline in participation because of it."
Christie, who announced his bid on June 30, is fighting for one of the 10 slots at the first Republican primary debate in August. He is currently hovering near the bottom of the list of those who will make the cutoff.
"Christie is the governor of a much more liberal state but he has to play to very conservative Republican voters," said David Redlawsk, a professor of political science at Rutgers University in New Brunswick and the director of the Rutgers-Eagleton poll. "So we're seeing him take some of these more conservative hard-line positions than he used to."