Germany Pressured to Soften Line on Greek Debt as Deadline Looms
Ian Wishart and Stephanie Bodoni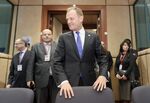 Germany came under growing pressure to back away from its resistance to debt relief for Greece, a major obstacle to a deal on keeping the country in single currency.
With Greece given until midnight Thursday to present an economic plan that includes spending cuts in exchange for a new bailout, European Union President Donald Tusk joined the U.S. and the International Monetary Fund in calling on the country's European creditors to cede some ground.
"The realistic proposal from Greece will have to be matched by an equally realistic proposal on debt sustainability from the creditors," Tusk told reporters in Luxembourg earlier in the day. "Only then will we have a win-win situation."
While euro-area governments have long resisted calls to reduce Greece's debt in nominal terms, there is a growing chorus that wants to make it more sustainable. France has consistently argued for the issue to be addressed whereas hardliners led by German Chancellor Angela Merkel have been far less willing to consider an easing of terms.
"We have a right to expect from both sides, from the Greek side but also from the creditors' side, goodwill and more responsibility than before," Tusk said.
Both IMF Managing Director Christine Lagarde and U.S. Treasury Secretary Jacob J. Lew, called for some restructuring of Greece's debt in separate speeches on Wednesday.
"I continue to believe that it is in the best interest of all parties to find a resolution," Lew said at a Brookings Institution event in Washington. "Greece needs a path toward a sustainable debt."
Loosen Noose
The leaders of all 28 European Union countries will meet in Brussels on Sunday to respond to Greece's proposals.
Some euro-area governments have signaled they are open to some kind of re-profiling, which could include the freezing of interest rates. Irish Finance Minister Michael Noonan said on July 7 that such relief "would be acceptable" according to an interview with RTE TV.
He said that while haircuts on Greek debt wouldn't be approved by his euro-area counterparts, finance ministers may agree to an extension of debt maturities.
Merkel is having none of it.
A "classic haircut is out of the question and that hasn't changed,"she told reporters in Sarajevo.
The euro area could also resurrect an offer of debt relief made in November 2012 as an incentive to Greece to make good on the terms of its bailout.
Under that proposal, Greece would have won a cut in its interest payment and an extension of its repayment period if it had stuck to the deal and delivered a primary budget surplus. The agreement expired with its bailout program on June 30.
Few Words
If there is an accord on Saturday and Sunday, "a few words will probably be needed" on debt, EU Economic Affairs Commissioner Pierre Moscovici said Thursday in an interview with France 24 television.
Greek Prime Minister Alexis Tsipras put forward a proposal on the eve of the June 27 referendum on the creditors' bailout proposal for a 30 percent reduction in Greece's debt without committing to reforms.
His request on Wednesday for a three-year bailout loan said tax and pension reforms would be implemented starting next week and all financial obligations would be honored "in a full and timely manner." However, the all-important details on how the Greeks will do this are still missing.