D.C. Joins Athens as Major Threat to Bull Market in U.S. Stocks
By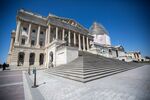 Is it possible that the biggest threat to the bull market in U.S. stocks lies not in Greece, or China, or Puerto Rico, but rather in the quiet little college town of Washington, D.C.?
This is a possible risk to contemplate as Capitol critics join the mob trying to kill the buzz from an epic bender of one of corporate America's favorite addictions: buying back the stock of its own companies.
If buybacks were an HBO series, they could be called "Game of Ratios.'' OK fine, that would be a boring show, but it's pretty exciting stuff in the stock market. Reducing the number of shares a company has outstanding in the market helps boost its precious earnings-per-share ratio. That, in turn, boosts the denominator in the price-to-earnings ratio, allowing the stock price to increase without a corresponding increase to its P/E.
A report from RBC Capital Markets strategist Jonathan Golub last week included a chart estimating the contributions to earnings growth from share buybacks. His point was that buybacks have not been the only source of earnings growth. But, on the flip side, it's notable how big a chunk of growth the practice can claim, especially in the current soft patch.
Add in the simple positive impact of having a big buyer for a stock in the market and it's easy to see why repurchases do wonders for share prices. If it's not easy to see, check out this chart (stolen egregiously from a story by David Wilson) that shows the performance of the companies that spend the most cash on buybacks as a percentage of their market capitalization:

As a result, Wall Street research on buybacks over the past few years has mostly been along the lines of (switching to laymen's translation now): "Gee whiz, look at all these buybacks! This is great for stocks!'' Now that Senator Elizabeth Warren has thrown her strong voice into the mix, they're starting to read more like "Gee whiz, is this practice actually moral? And, jeez, do we need to start worrying about morality now?''
Ed Yardeni, a chief investment officer and strategist at several big firms before starting his own research shop, yesterday did a great job of describing a thought process that likely has been shared by many investors:
``The ultimate putdown by the bears has been that the buybacks are just another form of financial engineering that artificially boosts earnings per share. The most extreme accusation is that the purchases are a form of stock manipulation. I am often asked by our accounts, and sometimes by reporters, whether I concur with this charge. My response is that I am an investment strategist, not a preacher. I don't do morality. I don't make judgments on `good' or `evil.' I do `bullish' or `bearish.'''
That's fair enough. Making investment decisions is hard enough without throwing abstract, non-quantifiable, touchy-feely factors like "morality'' into the mix. Perhaps this is wrongheaded, but the flows into exchange traded funds show that the vast majority of investors are like Yardeni and prefer the preaching in the pews rather than the portfolios. ETFs that focus on righteous causes like environmental, social and governance issues, women in leadership, or religious values have struggled to attract assets.
The moral argument against buybacks is that the money spent boosting stock prices for alleged fat cats in many cases could be better spent on things like hiring more workers (or at least not firing them), increasing wages, building more facilities, beefing up research and development, etc. 
As such, it's as much an economic argument as a morality argument. Investing in people, facilities and research arguably could have a much bigger long-term impact on a company's bottom line (not to mention the entire economy) than taking advantage of low interest rates to borrow money to buy your own stock. This is the tack that BlackRock Inc. chief Laurence Fink took in April when he sent a letter to the chief executives of S&P 500 companies, arguing that their "duty of care and loyalty'' should be to long-term owners instead of activists agitating for returning more cash to shareholders. Goldman Sachs Group Inc., for their part, believes acquisitions would be a better use of cash. 
And yet here we are. Buyback authorizations so far in 2015 have already topped full-year totals for 2008, 2009, 2010 and 2012 and are on pace to set a record of $993 billion, according to Birinyi Associates Inc. 

Sen. Tammy Baldwin, like Sen. Warren, has asked the SEC to look into the practice. As Wilson reported, analysts at HSBC believe greater regulation may end up "tempering some of the gains in U.S. stock prices over the last few years, or in some cases, even reversing those gains." That arguably could be an understatement. Can you imagine the market reaction if a headline crosses the tape that declares buybacks will be curtailed? 
Sen. Warren called buybacks a "sugar high'' for corporations, according to the Boston Globe. In fact, the high may be even more addicting than sugar. And as anyone who has dealt with an addict knows, the person's long-term health will benefit from kicking the habit. But in the near-term, things can get pretty ugly if they try to go cold turkey.  If the government is keen to cure the market of this addiction, it would behoove them to keep that in mind and ensure that the cure is not worse than the disease.