China's Stock Slump May Hinder Third Quarter Growth, Survey Says
By
A twenty-eight percent drop in the Shanghai Composite Index since June 12 will trim at least 0.1 percentage point from third quarter GDP growth and may prompt the PBOC to accelerate monetary easing, according to a majority of economists surveyed by Bloomberg from July 8-9. 
Two-thirds of economists say the fall in stock prices will reduce third quarter growth by between 0.1 and 0.6 percentage point, while the rest expect the rout to have negligible impact on Chinese output. Economists forecast 6.8 percent growth this quarter and 6.9 percent in both the third and forth quarters of this year, according to a separate survey. China expanded 7 percent in the first quarter, the slowest pace since the beginning of 2009.

The sell off may also have an impact on monetary policy. Sixty percent of economists say the PBOC will accelerate the pace of easing as a result of the volatility. The central bank has lowered its one year benchmark lending rate four times since November of last year, the most recent being a 25 basis point cut on June 27. Economists in a separate survey expect a further cut before the end of this year.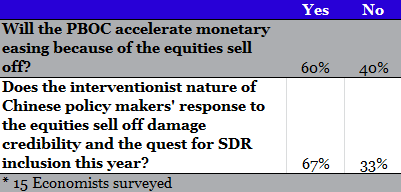 The interventionist nature of Chinese policy makers' response to the chaos isn't doing them any favors either. Two-thirds of economists expect the action to damage their credibility and their quest in joining the dollar, euro, pound and yen in the International Monetary Fund's reserve currency basket, known as the SDR.