Yield Curve Shows Greece, China Wreaking Havoc on U.S. Outlook
Bond market provides window into transmission of global events
by
Just take a look at Treasury bond market to see how quickly the outlook for U.S. economic growth can be upended by outside events such as Greece's financial turmoil and the collapse of the Chinese stock market.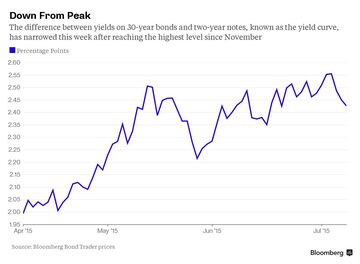 The gap between yields for Treasuries maturing in two- and 30-years has fallen to 2.40 percentage points, down from 2.56 percentage points on July 2, the widest since November. A wider yield curve typically signals faster growth and investors seeking compensation for the risk of added inflation.
 Investors seeking safety have flocked to longer-term U.S. government debt as uncertainty proliferates regarding the ability of policy makers in Europe to resolve a debt crisis that has festered since 2009, and of Chinese officials to arrest a $3.5 trillion plunge in stock prices.
``The long-end of the U.S. curve is again the hostage of European news,'' said Stanley Sun, an interest-rate strategist at Nomura Holdings Inc., one of 22 primary dealers that trade with the Federal Reserve. ``At the same time you have commodities falling on the China news, so you have the disinflation channel working, especially on the 30-year.''
The rout in Chinese stocks has also had an effect on the markets for commodities such as oil, copper and aluminum, which suggests the risk of slowing global economic growth, leading to a reduction in expectations for the pace of inflation.
Before it's here, it's on the Bloomberg Terminal.
LEARN MORE