World Suffering Surge in Extreme Rainfall Due to Climate Change
Stefan Nicola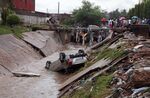 The world is suffering a surge in record-breaking rainfall because of climate change, scientists say.
Extreme rains, like those that led to flooding and a cholera outbreak that killed hundreds in Pakistan in 2010, are happening 12 percent more often globally and 56 percent more frequently in Southeast Asia than if the world wasn't warming, according a study by the Potsdam Institute for Climate Impact Research.
"One out of 10 record-breaking rainfall events observed globally in the past 30 years can only be explained if the long-term warming is taken into account," Dim Coumou, co-author of the report released Wednesday, said in a statement. "For the last year studied, 2010, it is even one event out of four."
The results are the latest evidence of the dangers from climate change as negotiators from about 190 nations work on the first worldwide deal to curb greenhouse gases in richer and poorer nations alike. With emissions from fossil fuels at record levels, world temperatures are set to warm 3.6 degrees Celsius by the end of the century, the fastest shift in 10,000 years.
The changes in rainfall are being felt differently in different places, with wet regions tending to see greater increase in record downpours and drier regions the opposite.
While rains have increased 31 percent in Europe and 24 percent in central U.S., the Mediterranean and western U.S. are seeing decreases of 27 percent and 21 percent, respectively, meaning they're at risk of severe droughts, the study showed.
The scientists analyzed rainfall data from 1901 to 2010 from thousands of weather stations. The jump in record rainfalls fits the expected increase of how much water the atmosphere can store when temperatures rise, the authors wrote.
Before it's here, it's on the Bloomberg Terminal.
LEARN MORE