We Break From the NYSE Crisis to Ask: So How Are Commodities Doing?
The trend, as with Amundsen, is south, south, south. Here's the chart adults use to look at commodities
By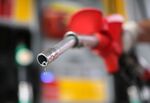 Pardon the interruption. I was repositioning my vast equity holdings when the New York Stock Exchange had the audacity to shut down. So I glanced at pork bellies and wondered: How are commodities doing?