Spieth Hooks Shark in Bahamas Before Returning to PGA Tour Play
Michael Buteau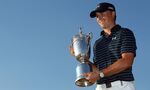 Call it a Shark Slam.
Jordan Spieth, winner of this year's Masters Tournament and U.S. Open, might be the only golfer to win two major championships and catch a shark in the same year.
Spieth said he recently spent more than two hours battling a 12-foot, 300-pound (3.7 meter, 136 kilogram) blacktip shark while fishing in the Bahamas with friends. The shark had eaten a tuna Spieth had caught and ended up on his line.
"I was hooked on a tuna for about 45 minutes to an hour," Spieth said in a press conference prior to this week's John Deere Classic. "All of a sudden it just rips back down again. I almost got pulled in."
After a while, the 21-year-old Texan said his arms got tired and he had to ask the boat's captain to take over while he took a bathroom break.
"My arm couldn't move anymore," he said. "A couple of my friends were like, I'll take over. I'm like, 'you bet your ass you're not taking over. This is my fish.'"
The boat Spieth and his friends were in was too small to keep the shark so it was released, he said. Although his arms were tired, Spieth had no intention of surrendering.
"The competitive side of me, I didn't want to give up until I actually couldn't move my arm anymore," he said. "It was sore for a couple days, but I'm good now."
Spieth is playing in the John Deere Classic in Silvis, Illinois, this week, rather than the European Tour's Scottish Open, which many players are using as a tune-up for next week's British Open at nearby St. Andrews. Spieth is the oddsmakers' favorite to win his third straight major at the so-called Home of Golf.
Spieth won the John Deere in 2013 to become the youngest person in 82 years to claim a PGA Tour title.
"I'm here because I believe I can win," Spieth said. "It's advantageous for me to try and win this week and to get any kind of momentum I can, or continue the momentum that I can into the Open Championship."
Golf's No. 2 ranked player behind Rory McIlroy, Spieth is the first golfer since Tiger Woods in 2002 to win the Masters and U.S. Open in the same year.