Rock Star McFarlane Reprises Aviva Hit Ousting Barclays CEO
Sarah Jones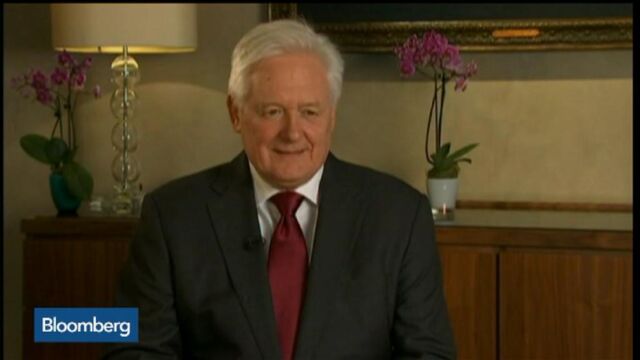 Barclays Plc's John McFarlane has pulled out his old songbook at his new job.
In firing Barclays Chief Executive Officer Antony Jenkins and stepping in as executive chairman of Britain's second-largest bank, McFarlane is repeating the same tough stance he took at U.K. insurer Aviva Plc three years earlier.
"I am decisive and that's fair enough," the straight-talking Scotsman said on conference call with journalists on Wednesday. "The Aviva situation and this situation has a lot of parallels."
McFarlane, 68, has built a reputation as a turnaround artist, first at Australia & New Zealand Banking Group Ltd., then at Aviva, the U.K.'s second-largest insurer by market value. Just three months into the job at Barclays, McFarlane has been hired to fix a bank damaged by scandal and in need of deeper cost cuts to meet its profitability targets.
McFarlane has boosted the share prices of the companies he has run: Aviva's stock jumped more than 80 percent under him and ANZ saw the shares triple in his 10 years as CEO. Since his appointment in September, Barclays has gone from being one of the worst performing lenders on the London Stock Exchange to the one of the best.
But his history of deep cuts and firing CEOs has also earned McFarlane, who sang in a rock group called the Sekrets in the 1960s, the unwanted nickname "Mack the Knife."
'Wrong Connotation'
"Isn't 'knife' the wrong connotation here?" the silver-haired McFarlane, who speaks with a brusque Scottish accent, said Wednesday. "I mean, tripling the market cap and doubling the stock price isn't about knives, it's about an accelerator."
At Barclays, Jenkins, 53, set up a bad bank, eliminated thousands of jobs and sold assets to bolster earnings. His efforts failed to have a quick impact, with the securities unit reporting a 2.7 percent return on equity in 2014, down from 8.2 percent a year earlier and below the group target of 12 percent.
That's the least profitable of the bank's four units, and some analysts have said Barclays will struggle to meet its profitability targets unless it deepens investment bank cuts. McFarlane said on Wednesday he sees a need to accelerate capital generation, while signaling more job cuts and branch closings.
'Good Reputation'
McFarlane "comes with a good reputation, and I would back him in his decision," said David Smith, a fund manager at Henderson Group Plc in London, which oversees 89.5 billion pounds ($138 billion) in assets. "The announcement has come as a surprise this morning, but not completely unexpected with returns from the investment banking division still disappointing."
McFarlane was born in Dumfries, a market town 15 miles north of the border with England where Scotland's national poet Robert Burns died, and was educated at Edinburgh University. He joined Ford Motor Co. before moving to Citigroup Inc.'s U.K. division, where over an 18-year career at the bank, he rose to become its chairman.
He then spent four years living between London and Hong Kong, working for Standard Chartered Plc before arriving as CEO at ANZ in Melbourne. After leaving ANZ Bank he joined Royal Bank of Scotland Group Plc as a non-executive director in 2008 after it received the world's biggest bank bailout. He stepped down in 2012 to take the Aviva job.
Aviva, ANZ
At Aviva, McFarlane joined a company that was beset by Europe's debt crisis and had seen a shareholder rebellion force the resignation of CEO Andrew Moss. Within months, he initiated a strategic review that included asset sales and job losses, before installing Mark Wilson as CEO.
Employees at Aviva say McFarlane was quick to identify what was wrong with the insurer and in setting out a plan to fix it, including erasing layers of management and reducing the global footprint. He helped sell the U.S. life unit to Apollo Global Management for $2.6 billion.
By the end of 2013, Aviva's economic capital ratio had improved to 182 percent from 130 percent at the end of 2011.
When McFarlane joined ANZ in 1997, the lender was losing money in Asia, had the highest costs of any local bank and had lost A$200 million ($148 million) trading Russian bonds in London. Within four years, the bank had the lowest cost-to-income ratio of all of Australia's lenders and its return on equity improved 5 percentage points to 20.1 percent.
McFarlane cut ANZ's lending in Asia to less than $8 billion as he focused on its Australian customers. He was also known to perform Bruce Springsteen songs on his guitar at staff parties.
In addition to running first Aviva and now Barclays, McFarlane has quickly taken on a central role in London's financial district. In June, he was named chairman of lobby group TheCityUK just as the financial-services industry braces for a referendum on the Britain's European Union membership.
Read this next:
McFarlane is well aware of his reputation as a cost-cutter.
"Look to my track record in how I execute these things and it's largely about returns and not just cutting costs," he said Wednesday. "I don't just come in and fire CEOs. I had very good working relationships with the CEO at Aviva."