politics
Renewal of Education Act Passes House After Strategy Shift
Billy House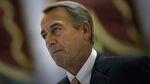 The U.S. House passed its version of a reauthorization of the No Child Left Behind education law after Republican leaders shifted strategy to allow votes on amendments sought by conservatives.
The measure, H.R. 5, passed 218-213 Wednesday.
The Senate is considering its own measure, which Democrats describe as a collaborative effort to give states more authority to determine how to hold school districts accountable for student performance.
If the Senate passes its proposal, a final version would have to be worked out in a conference between the two chambers.
"This very week the Senate is discussing their own version, and it reflects more bipartisan spirit," said Representative Jared Polis, a Democrat who once served as chairman of the Colorado Board of Education. He said the House "is shortchanging our kids' future" and "would bring us back to a time where there were no accountability standards."
Representative Dan Newhouse, a Washington state Republican, disagreed, saying the House bill would "empower" parents, local communities and states to fix education systems.
No Democrats voted for the House bill, while 27 Republicans joined 186 Democrats in opposing it.
The No Child Left Behind Act was a key domestic policy achievement for President George W. Bush, who worked with the late Senator Edward Kennedy, a Massachusetts Democrat, to enact the primary- and secondary-education law to expand educational opportunity to students. Bush signed it in early 2002.
Standardized Testing
The law has since become a magnet for criticism. Opponents including conservatives and teachers' unions say it focuses too much on standardized testing and interferes with state and local control of education.
In February, a lack of Republican conservative backing for the measure caused party leaders to pull it from the floor. Because Democrats oppose the bill, Republicans knew they couldn't afford many defections among their members.
To find more majority-party votes, leaders allowed votes on additional amendments to the bill. Lawmakers adopted an amendment to ease federal testing mandates, and defeated one that would have let states opt out of federal education programs without sacrificing funding.
Heritage Action, a Republican-leaning research group, pushed for the amendment allowing states to opt out, called "A-Plus."
(Updates with vote breakdown in seventh paragraph.)
Before it's here, it's on the Bloomberg Terminal.
LEARN MORE