politics
Pension Funds Look Outside U.S. to Fortify Investment Returns
James Nash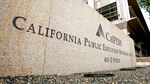 Facing a $2 trillion unpaid tab for benefits to retirees, U.S. public pension funds are chasing higher returns in emerging markets overseas, even though such stocks have trailed their U.S. counterparts for the past five years.
The largest fund, the $302 billion California Public Employees' Retirement System, has about half of its stocks outside of the U.S., with almost 10 percent in emerging markets. The second-largest, the California State Teachers' Retirement System, is considering a push into emerging markets as it re-calibrates its mix of $193 billion in assets.
The pensions are betting on modeling that shows overseas and emerging-market stocks will outperform those from the U.S. in the long run. Some two-thirds of U.S. pension fund equity holdings are domestic, while more than half of the $90 trillion global investment market consists of non-U.S. stocks and bonds, according to a May 2013 brief by Callan Associates Inc., which advises institutional investors.
"The goal is to increase the global exposure and reduce the home bias," said Andy Iseri, a San-Francisco based senior vice president with Callan. "It's a continued evolution toward a global perspective."
Calstrs, like many public pension funds, is under pressure to boost investment returns to narrow the gap between assets and obligations to retirees. The plan serving 879,000 current and retired teachers had a $74 billion funding gap on June 30, 2014. It is relying on average returns of 7.5 percent as well as increased payments from teachers, school districts and the state to erase the shortfall in about 32 years.
Inadequate Contributions
The average funding of state and local pensions has slumped even though investment returns have improved, partly because of inadequate contributions by governments, according to a 2014 report from Moody's Investors Service on the 25 largest public plans. Unfunded liabilities tripled to almost $2 trillion from 2004 through 2013.
Over the next 20 years, non-U.S. stocks are projected to beat their domestic counterparts by more than a percentage point, investment advisers told the California teachers' fund, which is in the midst of an every-four-years review of investment allocation. About a third of Calstrs' stock investments are outside the U.S., said Chief Investment Officer Christopher Ailman.
Stephen McCourt, a managing principal at Meketa Investment Group Inc. and consultant to Calstrs, said the pension fund can't count on higher returns without also accepting more risk.
"We also have a much, much higher risk potential for emerging-market stocks," he told the fund's investment committee June 12. "We don't think the return is possible without accepting the volatility as well."
Global Capitalization
Emerging markets now represent about 20 percent of global market capitalization and are poised to grow faster than the developed world, Iseri said. Those countries already account for a majority of the world's population and income growth is eclipsing that of developed countries, he said.
"If you're looking forward to the opportunities of the future, it's in those emerging markets that are woefully underrepresented," Iseri said.
Institutional investors have gravitated toward non-U.S. stocks in the last three decades, even during periods like the past couple of years when a strong dollar has boosted domestic returns above foreign ones, said Howard Pohl, a Chicago-based senior consultant at The Bogdahn Group, an investment consultancy. Many large institutional investors now have more than 25 percent of their stock holdings in non-U.S. equities, he said.
Tactical Decision
"It's a tactical decision," he said. "If you're looking at where things might be, you would say that international is more attractively priced."
Some funds don't invest in emerging markets at all. The Public Employees' Retirement System of Nevada has no stocks or bonds from those countries in its $34.5 billion portfolio, said Investment Officer Steve Edmundson.
The system would need at least 5 percent of investments in emerging markets to make a difference in overall returns, which would represent "a marked increase in our risk exposure," he said by telephone.
Over the five years ended Dec. 31, Calpers earned 1.84 percent on emerging-market stocks it manages internally, compared with 5.95 percent for developed non-U.S. markets and 15.93 percent for domestic stocks, according to an annual report.
The strong U.S. dollar and instability in some emerging markets contributed to the differences, said Dan Bienvenue, the fund's senior investment officer for global equity.
2008 Policy
In the past decade, Calpers' stock portfolio has gone from about two-thirds U.S.-based equities to about half, Bienvenue said. The number roughly totals the market capitalization of companies on the FTSE Global All Cap Index, he said.
Under a policy adopted in 2008, about 8 percent to 10 percent of the fund's $160 billion in global equity holdings are in emerging markets, he said.
"The broader and deeper you are, the more diversified the portfolio is going to get," Bienvenue said. "For a plan like Calpers that's going to be around a long time, our goal is to be as broad and deep and diversified as possible."
Before it's here, it's on the Bloomberg Terminal.
LEARN MORE