Osborne Cuts U.K. Company Tax, Bank Levy, Brings In Living Wage
Thomas Penny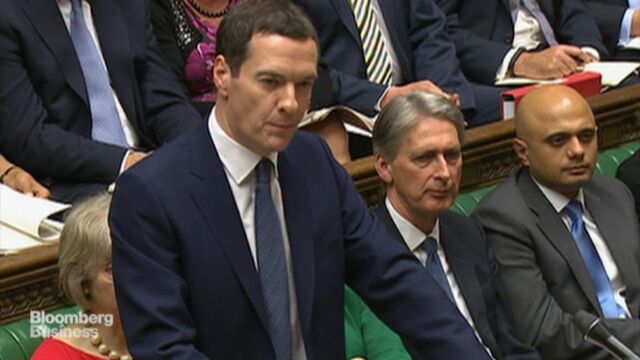 U.K. Chancellor of the Exchequer George Osborne cut company taxes and the levy on banks as he squeezed welfare and announced a new national living wage in the first budget by a Tory-majority government in almost two decades.
Taunting the Labour opposition that his Conservative Party is the true champion of working people, Osborne said he'll maintain the pace at which Britain has been reducing its budget deficit since 2010, rather than increasing it. He put back by a year the target for achieving a fiscal surplus to ease pressure on public services.
Corporation tax will be reduced to 19 percent in 2017 and 18 percent in 2020 from 20 percent this year, Osborne told lawmakers in London on Wednesday. While the chancellor pared the levy on banks' assets, bowing to pressure from lenders that have threatened to leave London, he introduced a new surcharge on their profits. He also cut back on tax relief for so-called non-domiciled people living in Britain.

"We want Britain to move from a low-wage, high-tax, high-welfare economy to a higher-wage, lower-tax, lower-welfare society," the chancellor told the House of Commons in London.
It's the first time Osborne has been able to set out plans for tax and spending without being constrained by the Liberal Democrats, who lost their share of power after the Conservatives won a surprise parliamentary majority in May's election. It's the first budget by a Tory majority government since 1996.
---
Osborne's Budget: Key Policies
---
'Fundamentally Stronger'
"The British economy I report on today is fundamentally stronger than it was five years ago," Osborne said, laying out his seventh budget since becoming chancellor in 2010. "Having come this far, there can be no turning back."
The deficit will be 69.5 billion pounds ($107 billion) this year, compared with the 75.3 billion pounds predicted in March, Osborne said, citing estimates by the Office for Budget Responsibility. The U.K. economy will grow 2.4 percent this year and 2.3 percent in 2016, according to the OBR, compared with March forecasts of 2.5 percent this year and 2.3 percent next.
Borrowing will fall to 43.1 billion pounds in 2016-17, 24.3 billion pounds in 2017-18 and 6.4 billion pounds in 2018-19, Osborne said. The U.K. will be in surplus in 2019-20, a year later than forecast in March.
Osborne said the new compulsory national living wage for people over 25 will be set at 7.20 pounds an hour, with a goal of increasing it to 9 pounds an hour by 2020. The current minimum wage is 6.50 pounds, rising to 6.70 pounds in October.
Tax cuts for companies will offset the additional costs, meaning the rate will have a "fractional" effect on jobs, he told lawmakers, citing OBR estimates.
Defense Commitment
He also said the U.K. will meet the NATO target of spending 2 percent of national income on defense "every year of this decade," an announcement greeted with cheers by Conservative lawmakers.
"This is a budget that can only be delivered because the British people trusted us to finish the job," Osborne told the Commons. "We should aim for a new settlement across the political spectrum where it is accepted that without sound public finances there is no economic security for working people."
The levy on banks will be "gradually" reduced over the next six years, Osborne said, and won't apply to worldwide balance sheets after that. There will be an 8 percent surcharge on bank profits on top of corporation tax starting in January
2016.
He said he will stop the arrangement that allows people with non-domiciled status to reduce their tax liabilities from being permanent and disallow people from inheriting the right. A total of 15,000 people will lose non-dom status when the new rules come into effect.
Inheritance Tax
Osborne said he would press ahead with plans to cut taxes on inheritance and reduce welfare for the poor, which were blocked before the May 7 election by the Conservatives' coalition partner Liberal Democrats. He also said public-sector pay increases will be capped at 1 percent for the next four years.
Welfare payments will be limited to annual 23,000 pounds for families in London and 20,000 pounds for families outside the capital, instead of the current 26,000 pounds, Osborne said. Extra tax credits currently available for each additional child in a family will be stopped after two children, he said.
The threshold for paying inheritance tax will rise to 1 million pounds in 2017, funded by restricting pension tax relief for people earning more than 150,000 pounds a year.
Fuel duty will be frozen, and the threshold at which people start paying income tax will rise to 11,000 pounds from 10,600 pounds next year, while employees will start paying the 40 percent rate at 43,000 pounds, compared with the current 42,385 pounds, Osborne said.
Labour's interim leader, Harriet Harman, attacked the announcements, saying the living wage "will not be enough for a family to live on" because of the cuts in tax credits.

Read this next:
"Many of the measures announced today will make the country more divided," she said.