Obama Agenda Faces Tougher Room in Bid to Loosen Immigration
Laurel Brubaker Calkins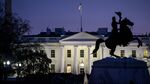 The Obama administration has a chance to build on health care and gay marriage victories won at the Supreme Court when it urges an appeals court to let 5 million undocumented immigrants stay in America. But it's a slim chance.
On Friday, the White House will face long odds as it seeks to persuade a panel of judges to let President Barack Obama's effort to loosen immigration restrictions take effect. Two of the three are Republican appointees who rejected a similar administration bid.
"Those two judges have already expressed their doubts," said Sidney Powell, a Dallas attorney who has appeared for two decades before the U.S. Court of Appeals in New Orleans, where the case will be heard. "I'd be surprised if they changed their minds at this point."
If Obama wins, opponents have argued that his executive actions may make some immigrants eligible for Social Security and Medicare. Such an outcome may energize Republican presidential contenders who have made his attempt to circumvent Congress an issue in the 2016 campaign. With few exceptions, those candidates have opposed giving legal status to undocumented immigrants and accused Obama of abusing executive authority.
Senators Ted Cruz of Texas and Marco Rubio of Florida and New Jersey Governor Chris Christie have joined scores of other Republicans in asking the New Orleans court to block Obama.
Executive Actions
The president's actions late last year seek to block deportations and provide work permits to immigrants who've been in the country for five years, if they were brought here as children or have a child who is a citizen. To qualify, they also must pass a criminal background check.
Some 26 states led by Texas claim the initiative was lawmaking, which is traditionally the job of Congress. They obtained an order by a Texas federal judge blocking implementation until their challenge is resolved.
In May, U.S. Circuit Judges Jerry Smith and Jennifer Walker Elrod in New Orleans ruled the states had the right to sue, and that Obama's measures probably broke federal law. The freeze remained in effect.
This week, lawyers for the government and the states will argue whether the lower court's order was valid.
Mexican Border
U.S. District Judge Andrew Hanen in Brownsville, Texas, is a George W. Bush appointee whose courthouse sits a mile from the Mexican border. He has berated government lawyers, accused the administration of ignoring court orders and speculated Obama's actions were illegal during hearings in his courtroom.
Late Tuesday, Hanen ordered U.S. Department of Homeland Security chief Jeh Johnson and White House lawyers to appear before him next month to face potential contempt charges. The judge contends the administration has yet to follow his orders to freeze the immigration initiative.
Hanen's sentiments on the illegality of Obama's orders were echoed by Smith and Elrod when they rejected the earlier administration effort to suspend his ruling and put the measures in place.
"The first panel clearly didn't think very highly of the White House's arguments," said Seth Kretzer, a Houston lawyer who often argues before the appeals court. They may be concerned the president over-reached, in part because he shifted gears in favor of executive action after losing the mid-term elections.
U.S. Circuit Judge Carolyn King, an appointee of President Jimmy Carter, a Democrat, will take the third seat on the panel.
In April, she sided with the administration in a separate immigration case by Mississippi and two border agents.
Fifteen states and the District of Columbia, along with coalitions of mayors and police chiefs, have sided with Obama. They claim his program will boost tax revenue and aid law enforcement by bringing law-abiding immigrants "out of the shadows."
Higher Costs
Taxes from fully employed immigrants would exceed the higher costs of providing more services, the proponents said.
A victory for Obama would allow the executive action to take effect as the state challenge heads toward trial before Hanen. It would also partially fulfill a campaign promise and help lock in some of the Latino vote for Democrats next year.
But such a win could be short-lived: the states would likely seek Supreme Court review, and another delay of the initiative.
"We do want the courts to move expeditiously," White House Deputy Press Secretary Eric Schultz has said. "We feel strongly that we are on solid legal ground."