Lost My Name Creates a Personalized Children's Book Best-Seller
How four sleep-deprived dads rewrote the future of kids' books
By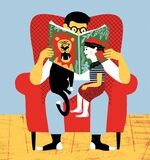 A few years ago, Asi Sharabi was thumbing through a children's book his 3-year-old daughter received as a gift, trying to assess whether it was worthy of her bedtime rotation. This particular story had a trick to it, something Sharabi had never seen before. Prior to printing, it was personalized to include his daughter's name on some pages. "I got the warm and fuzzy feeling of seeing my daughter's name," Sharabi says. "But it lasted exactly two seconds. The book was total garbage."
It was 2012, and Sharabi was running a small ad-consulting firm in London. Around the same time, he'd read The Lean Startup by the American entrepreneur Eric Ries, who advocates that new companies adhere to a strict methodology, emphasizing things such as data-driven experimentation and iterative product releases. As Sharabi pondered his daughter's book—powerful concept, shoddy execution—he thought Ries's ideas might apply. Sharabi did some online research and learned that personalized children's books had been around for decades, at least since the 1970s. But much of the technology, if you could even call it that, had remained static. The genre lacked any seminal texts. So he convened a small team of partners, consisting of writer David Cadji-Newby, illustrator Pedro Serapicos, and technologist Tal Oron. They set out to create a uniquely customizable—and, ideally, awe-inspiring—children's book.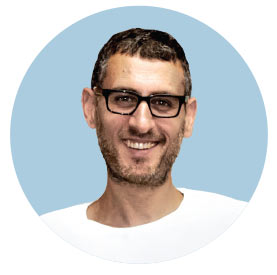 The result, alternatively called The Little Boy/Girl Who Lost His/Her Name, is now selling like gangbusters internationally. The four partners have quit their jobs to work full time on Lost My Name, their company. In two years, the book, which costs about $30, has sold more than 600,000 copies. Last year, according to the company's sales figures, it was the top-selling picture book in the U.K. It's also popular in Australia and Canada and has sold almost 125,000 copies in the U.S. The marketing has largely been through word-of-mouth; sales got a boost in 2014, when the founders appeared on Dragon's Den, a top BBC tech program. Sharabi believes his title is on track to join the canon of children's classics, including The Very Hungry Caterpillar and Where the Wild Things Are, which remain popular year after year, particularly as gifts to new parents. "We're building it as an evergreen proposition," he says. "Every book-loving family will have this."
Last year the children's and young-adult book and e-book market grew in the U.S. by 20.9 percent, topping $4.3 billion, according to the Association of American Publishers. The expanding market has attracted many entrants. Giants such as Walt Disney and independent publishers like Sourcebooks and KD Novelties are selling personalized children's books while also experimenting with personalized digital formats. Lost My Name is "facing a tremendous amount of competition," says Thad McIlroy, a book industry analyst who runs the Future of Publishing website.
What makes Lost My Name different is its "full stack" business model, like that of eyewear company Warby Parker, which aims to control every aspect of a buyer's experience. The product isn't available in bookstores or on Amazon.com. To buy a copy, you have to visit Lost My Name's website, which ships for free anywhere in the world.
Parents start by typing in the name and gender of their child. The site's code uses the letters of the child's name to determine which of about 300 set story elements—a pirate searching for lost treasure, say—to compile, along with connective transitions, into a narrative. The plot follows a small child, suffering from an identity crisis of sorts, who proceeds on a journey of self-discovery. Along the way, she encounters a series of struggling creatures (aardvarks, mermaids, tarantulas, and so on), each of whom she helps. In return for her kindness, she receives a particular letter of the alphabet. By the end of the adventure, the child winds up in possession of her own name. "People send us videos of their kids getting to the last page and going completely bananas," Sharabi says. " 'How did they do it, Mommy? How did they know my name?' " (It's geared toward kids age 2 to 6.)
This being 2015, the four partners see traditional children's books not only as entertainment but also as a narrative-delivery platform in need of disrupting. In June, Lost My Name closed on a $9 million round of Series A funding from a handful of well-known venture capital firms in the U.S.—where Lost My Name would like to increase sales—including Google Ventures, Greycroft Partners, the Chernin Group, and Allen & Co.
The backers believe Lost My Name can turn personalized mass media into the next thing in children's entertainment. Dana Settle, co-founder of Greycroft Partners, says she frequently hears uninspiring funding pitches from media startups run by talented technologists who treat content like a common, easily sourced commodity or from gifted creative types with little appreciation for the technical and marketing challenges of the modern entertainment business. What made Lost My Name appealing, she says, is that its founders are simultaneously coming at it from the technical, creative, and business sides. "This is exactly the way to build a modern-day publishing platform," Settle says.

Before skeptics can cough-cough-shout "tech bubble," Sharabi, 41, points out that, unlike many of the world's hot startups, Lost My Name is profitable. "We have zero inventory," he says. "We get paid for every book before we make it." The company has millions in the bank. "We didn't need to raise money," Sharabi adds. "This was about picking up the best partners who can help us make this company as big as Pixar."
The founders describe the company, somewhat predictably, as "platform agnostic." Moving forward, they plan to expand from books into personalized animated movies. The technology to create and deliver a customized video, Sharabi concedes, is more challenging than that for print. How it will work remains unclear, though the company has created several prototypes.
Sharabi, who grew up in Rehovot, Israel, is adjusting to his nascent role as a startup visionary. He first moved to England 15 years ago to study at the London School of Economics and Political Science, where he earned a Ph.D. Eventually, he soured on academia and turned to advertising. Now he spends much of his time thinking about how to shape Lost My Name's corporate culture. The company prides itself on being nonhierarchical, parent-friendly, and driven by engineering. "We are a technology company that happens to sell physical books," Sharabi says. "I credit some of our success to the fact that none of us came from publishing backgrounds."
Even so, says McIlroy, the industry analyst, the direct-to-consumer business model is likely to hamper the company's quest for growth. A recent study by Nielsen found that 71 percent of all purchases of children's books are driven by in-store displays. "You look at surveys of why kids' books are purchased, and you see that a lot of it depends on retail exposure," he says.

Avoiding traditional retailers, Lost My Name is already building strong ties to its customers. There are 400,000 or so; many are repeat buyers, and lots of them have been pestering Lost My Name to sell them new products.
In an age of rampant social media and worries about children's screen time, it's easy to balk at the prospect of even more self-referential kids' media. The company is aware of this problem. It's vigilant against turning personalization into another form of self-infatuation, Sharabi says. "We don't want to create narcissistic entertainment for the selfie generation."
This fall, Lost My Name plans to publish its second personalized book. To create it, customers will enter into the website a child's address—there are no plans to sell this information—and the company will build a book that begins in outer space and ends at the kid's doorstep. Along the way, the story will incorporate unique spatial elements from various data sources, including real NASA images. It will be more technically complex than the first book, which was done on a shoestring budget by a bunch of sleep-deprived fathers with full-time jobs.
Many of the 40 employees at the company's new headquarters in London are working on the release. Seventeen are programmers. "We like the idea of quiet technology," Sharabi says. "There's tons of complexity behind a product that ultimately facilitates a very quiet, old-fashioned bonding moment." Most parents don't understand how many thousands of lines of code are behind every personalized book the company produces, he says. Nor do they care.
Before it's here, it's on the Bloomberg Terminal.
LEARN MORE