In Iowa, Obama Haunts Marco Rubio
Not the Iowa caucus winner the Republican presidential candidate wants voters to be reminded of.
By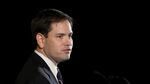 During a three-day swing in Iowa, Senator Marco Rubio came face-to-face with what may be his greatest obstacle to the Republican presidential nomination: his biographical similarities to President Barack Obama.
After speaking at a breakfast Wednesday here in Urbandale, where he was warmly received by an older Republican crowd, one voter put the question to the Floridian. "You are an extremely articulate, energetic, bright young first-term senator," he said. "That reminds me of somebody eight years ago!"
Awkward laughter from the audience, followed by a pause.
"I think there are some significant differences between me and the current president," Rubio responded, with a dollop of sarcasm in his tone, to laughter and applause, as you can see in this video, provided by a member of the audience.
Comparisons to Obama, the bête noire of the Republican Party since before Rubio landed on the national stage, are inevitable. Obama was 45 when he announced his campaign, Rubio was 43; both are ethnic minorities who came from humble beginnings and rocketed to stardom in their respective parties. And it's not just their backgrounds: Rubio's generational message about being a fresh face for a new era closely resembles Obama's playbook in 2008. Years-long laments from Republicans that Obama was too young and inexperienced for the job have translated into concerns about Rubio's preparedness for the White House during his swift rise to the top tier of his party's field.
Rubio seemed to know the question was coming; he came armed with a full response.
He said Obama was a "backbencher" in the Illinois legislature while he rose to become speaker of the Florida House; if elected president, Rubio added, he'll have served two more years in the Senate than Obama did. Rubio argued that Obama has been a "failure" not because he was a senator but because he's a bad leader with bad ideas and a "divisive figure." He added that Obama "made the deliberate decision to divide and pit Americans against each other," referring to his economic vision of making upper income Americans pay higher taxes.
"So these are major differences between me and the person who's there now. And I hope you'll see that," Rubio concluded.
For the new generation of Republicans, though, the flipside of Rubio's youth is more appealing, especially given that the standard bearers of two political dynasties—Republican Jeb Bush and Democrat Hillary Clinton—are also running for president in 2016. That was apparent on Tuesday when Rubio spoke to a younger crowd at a bar nearby in Des Moines.
"Marco Rubio could be a big one for me... I want to see a fresh face," said Cody Woodruff, who is soon turning 18 and looking forward to voting for the first time. "I'm not looking forward to a Bush versus Clinton election again—not that I was alive during the first one."