How Rand Paul Could Ride the Maharishi Effect to Victory
The candidate has a ready-made base at Iowa's Maharishi University.
By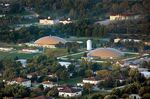 At Earth & Water, a teahouse in downtown Fairfield, Iowa, patrons sit cross-legged on mats as they down cups of oolong or puerh. Shoes are optional, if not discouraged. On a typical afternoon, it's crowded with students from the Maharishi University of Management, which opened in 1974 to teach a curriculum inspired by the Maharishi Mahesh Yogi, the progenitor of Transcendental Meditation.
Fairfield, the center of Transcendental Meditation in the U.S., is a hotbed of support for Kentucky Republican Senator Rand Paul. Earth & Water regulars Jeff Shipley and Roger Leahy helped turn it and surrounding Jefferson County into a stronghold for Paul's father, Ron, the Texas congressman who came in a close third in the 2012 Iowa caucuses. Now they're using Earth & Water as a base to help Rand get all the way to the White House. "There's a self-reliant attitude here," says Shipley. "The people who want to end the wars and end NSA spying are the same people who want to be able to sell raw milk."
In 2011, Ron Paul fans made converts and won volunteers among Fairfield's devotees by canvassing the city's monthly art festival and its health food stores. "I've been supporting the peace movement since Nixon bombed Haiphong harbor," says Leahy, who moved to Fairfield in 1974 to be close to other practitioners. "When we organized in 2012, downtown, the office had a silhouette of Ron Paul that said underneath it: I'm voting for peace. Ron Paul's attitude was that many of the problems we're getting into around the world could stop if we practiced peace."
About 500 people turned out to hear Ron speak in Fairfield's classically designed town square, says Shipley. Jefferson County gave Paul a margin of 252 votes in the 2012 caucuses, one of the biggest proportional margins for any candidate in any county. Months later, in the local party conventions that picked delegates, Paul's supporters routed their GOP rivals. In August 2012, Leahy went to the Republican convention in Tampa with Iowa's delegation to cast a vote against Mitt Romney's nomination.
Followers of the maharishi, who died in 2008, frequently see themselves on a journey to fix the world—not through conquest but through expanding minds. Every afternoon, at least 1,700 meditators gather in the Bagambhrini and Patanjali Golden Domes on the Maharishi University campus, not far from the Tower of Invincibility. The number is important: 1,700 is 1 percent of the U.S. population divided by its square root. According to the maharishi's teaching, that's the minimum needed to generate the Maharishi Effect—a decrease in crime and violence caused by the positive vibes generated by the meditators. "These are people who want to perfect their health and their world," Leahy says. "There's a lot of consciousness toward perfecting the environment."

Maharishi University professor John Hagelin took that philosophy into two presidential campaigns for the now-defunct Natural Law Party, in 1992 and 1996. He's president of the board of the David Lynch Foundation, a New York-based nonprofit named for the filmmaker, an avid devotee of transcendental meditation, that maintains a branch office in Fairfield. In his campaigns, Hagelin attempted to yoke TM to a libertarian-flavored political agenda. In the more enlightened world envisioned by his party, drugs would have been legalized, and the tax rate would have been flattened to 18 percent. Crime, guns, family breakdown—these problems, Hagelin claimed in the Natural Law Party platform, were supposed to be solved after "stress is neutralized and the whole population spontaneously becomes more in harmony with both natural law and national law."
With the Republican field more fragmented than ever, Iowa presents Paul with a chance to notch a win by mobilizing anti-establishment voters while his rivals divvy up the Republican base. It's not clear that everyone who went for Ron Paul will automatically Stand With Rand. "He's got some new position every week," says Francis Thicke, an organic dairy farmer in Fairfield who usually votes for Democrats. "He needs to get his stories straight." Thicke says what drew him to the elder Paul was a sense that he would fight for what he believed. "Ron Paul was the only one running for president not saying that Muslims hate us because of our freedoms," he says. "He was saying they hate us because we're killing them. That seems obvious, but no one else was saying it. I caucused for him because I thought he was going to put some pressure on his right-wing buddies."
Rand says he's ready to win Fairfield over. "There's a strong liberty movement there," he says. "From what I understand, there's a strong aversion to war." In May he addressed voters from the same town square that his father had. He denounced Obama-era military interventions and spent a long while talking about the paranoia that grew out of the war on terror. He invoked the story of Richard Jewell, the hero of the 1996 Atlanta bomb plot who became, unjustly, a suspect. Americans "are so afraid of terrorists that they're ready to ship their neighbor to Guantanamo Bay," he said. A Paul administration, he promised, would defuse that fear. "We've got to believe in justice," Paul said. The crowd cheered. "I'm hoping we can lead the way again," says Leahy. "I'm hoping we can get 75 percent of the vote for Rand Paul this time."
CORRECTION: The David Lynch Foundation is based in New York, not on the campus of the Maharishi University of Management.