Candidates Start Showing Their Fundraising Cards
Ka-ching! Some candidates and super-PACs just can't wait for the filing deadlines to share their good news.
By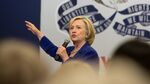 The 2016 presidential money race is starting to take shape and early indications are that the road ahead will be lined with bullion.
Among the candidates who have shared fundraising numbers, ahead of filing deadlines later this month at the Federal Election Commission, Hillary Clinton, not surprisingly, leads the Democratic field with her campaign and allied groups reporting a combined war chest of nearly $70 million. Even Bernie Sanders, who describes himself as an independent socialist, says he has already lined up $15 million, from primarily smaller donations, to wage his campaign.
In typical form, candidates with good news have come out touting their numbers ahead of the official July 15 reporting date. Ted Cruz, who critics said would have trouble finding well-heeled backers, is boasting a $51.2 million arsenal, most of which is in super-PACs, which can accept unlimited amounts of money but can't coordinate directly with the campaign. The chart below outlines numbers reported by the candidates themselves, super-PACs that are explicitly allied with and validated by presidential campaigns, and other groups, such as 501(c)4 organizations that raise money to help a favored candidate.
Now, all eyes are on Jeb Bush. According to BuzzFeed, Bush's Right to Rise super-PAC says it has already pulled in enough money to give his opponents "heart attacks."