business
U.S. Stocks Rise After Erasing Earlier Losses Amid Greece Talks
Annelise Alexander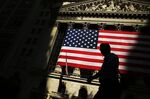 U.S. stocks rose, after the Standard & Poor's 500 Index rebounded from a drop below its average price during the past 200 days, as speculation grew that Greece's crisis would be contained.
Altria Group Inc. climbed 3.5 percent to lead a consumer staples rally, while energy shares reversed an early drop. Utilities in the S&P 500 rose the most in more than three months. Miner Freeport-McMoRan Inc. lost 3.3 percent as industrial metal prices tumbled amid fears that demand for raw materials from China will slide.
The S&P 500 climbed 0.6 percent to 2,081.34 at 4 p.m. in New York, after earlier falling as much as 1.2 percent. The Dow Jones Industrial Average added 93.33 points, or 0.5 percent, to 17,776.91. The Nasdaq Composite Index gained 0.1 percent. About 8.7 billion shares traded hands on U.S. exchanges Tuesday, 37 percent above the three-month average.
"We're really starting to get over the fear of Greece," said Brad McMillan, chief investment officer of Waltham, Massachusetts-based Commonwealth Financial Network, which oversees $97 billion. "Economically it really doesn't matter that much. It was a very real risk and pullbacks were rational. When you see a reaction to a market event and that event doesn't seem to be having much impact at all, then that reaction can reverse very easily."
The S&P 500 bounced back after falling through the 200-day moving average, an event that has coincided with past rebounds. Stocks have only crossed the level once since 2012 -- the period of last October's selloff, which gave way to an 11 percent advance at the end of 2014. The index swung 39 points Tuesday from its lowest to highest level, the biggest reversal since a 45-point move on March 18.
Greek Talks
Greece sidestepped an immediate collision with creditors by promising new economic reform proposals as German Chancellor Angela Merkel warned that "only a few days" are left to reach a deal.
Euro-area finance chiefs will discuss Greece's request on a conference call Wednesday morning when the country's banking system will remain shuttered for an eighth business day. The renewed contacts offer the European Central Bank a justification for not pulling the plug on Greek banks.
The S&P 500 fell the most in three months last week as the escalating crisis in Greece stole attention from U.S. economic data and the Federal Reserve. The benchmark measure is down 2.3 percent since its all-time high in May. Minutes from the Fed's June meeting due Wednesday may offer more perspective on the central bank's assessment of the economy's strength.
"The market is just showing its usual resilience and realizing that things aren't that bad," said Karyn Cavanaugh, the New York-based senior market strategist at Voya Investment Management LLC. Voya oversees $215 billion. "There was too much negativity. Oil's coming back and the world's not falling apart so the stock market feels a little more comfortable."
Dividend Plays
The Chicago Board Options Exchange Volatility Index fell 5.4 percent to 16.09, after jumping as much as 13 percent. The gauge, known as the VIX, Thursday posted its biggest weekly gain since January, up 20 percent.
Nine of the S&P 500's 10 main groups advanced, with utilities and consumer-staples shares rising at least 2 percent as investors sought safety amid the turbulence in Greece, according to Jack Russo, an analyst at Edward Jones. It also helped that yields on U.S. Treasuries dropped Tuesday to a two-week low. "Both sectors dividend yields look more attractive as a result," he said.
Utility companies rallied 2.5 percent, the most since March 18. Duke Energy Corp. added 3.3 percent, its biggest gain since 2011, and PPL Corp. jumped 3 percent.
Altria jumped the most in more than two years, and Costco Wholesale Corp. rose 3.4 percent, pacing gains among consumer staples. Hershey Co. added 2.7 percent, the most this year, and General Mills Inc. climbed 2.3 percent to an all-time high.
Banks Slip
Energy companies rebounded after the group fell 1.4 percent as oil erased its retreat. Chesapeake Energy Corp. soared 10 percent, its biggest gain in 2015, while Transocean Ltd. increased 5.4 percent after both earlier slumped at least 3.9 percent.
Banks in the benchmark dropped for a third session along with the decline in Treasury yields. Citigroup Inc. and Bank of America Corp. lost at least 1 percent. Comerica Inc. fell 3.4 percent, the most since Jan. 9.
Freeport-McMoRan sank 3.3 percent, after losing 3 percent Monday, as copper prices tumbled amid concerns about demand in China. Newmont Mining Corp. slumped 6.1 percent to its lowest in almost three months as gold dropped to a 15-week low.
A sales warning from Advanced Micro Devices Inc. sent the chipmaker's shares tumbling 15 percent to their lowest in more than two years and weighed on the semiconductor group. Nvidia Corp. and Avago Technologies Ltd. declined more than 1 percent.
Before it's here, it's on the Bloomberg Terminal.
LEARN MORE