SurveyMonkey Names HP's Bill Veghte as Its Chief Executive
Tony Robinson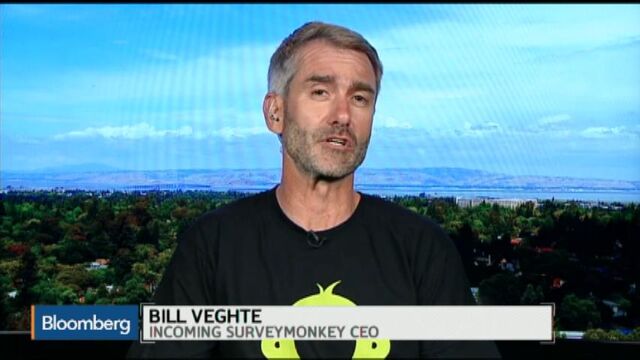 SurveyMonkey Inc. named Bill Veghte, of Hewlett-Packard Co., as chief executive officer, following the unexpected death of CEO David Goldberg.
Veghte's appointment takes effect Aug. 3 and he is joining the board, the Palo Alto, California-based company said Tuesday in a statement.
The announcement came a day after the online polling company said Sheryl Sandberg, Goldberg's widow and the chief operating officer of Facebook Inc., had joined SurveyMonkey's board.
Hewlett-Packard said last month that Veghte, 48, who had been helping to lead the separation of its business-services unit, would leave the company this summer.
"Bill's stellar track record in both consumer and enterprise markets makes him the ideal candidate to succeed Dave Goldberg," SurveyMonkey Chairman Zander Lurie said in the statement. "Bill will continue to deliver on SurveyMonkey's expansion." Lurie, an executive at GoPro Inc., had served as SurveyMonkey's temporary executive chairman and was named permanent chairman on Monday.
The polling firm has been broadening its offerings in an effort to gain a more central role with businesses. SurveyMonkey also has been integrating its product with applications from companies such as Google Inc. and Salesforce.com Inc., which makes software that manages customer relations.
Veghte joined Hewlett-Packard in 2010 and served as chief strategy officer before becoming operating chief in 2012. He was named executive vice president of the company's Enterprise Group the next year. He also worked for 20 years at Microsoft Corp.
Goldberg died in May at 47 while on vacation with family and friends in Mexico, after a treadmill accident.
SurveyMonkey, founded in 1999, helps businesses gauge customer satisfaction, schedule events and conduct employee reviews through online surveys. The closely held company has more than 500 employees in the U.S. and Europe. SurveyMonkey was valued at about $2 billion in December.
(An earlier version of this story incorrectly said Goldberg was a founder of SurveyMonkey.)