business
Subway Cuts Ties With Spokesman Jared After Law-Enforcement Raid
Leslie Patton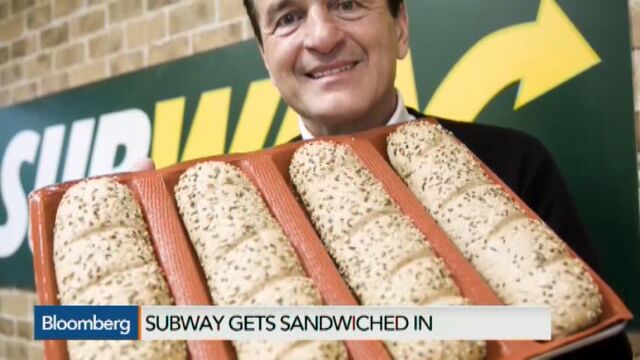 Subway Restaurants cut ties with spokesman Jared Fogle after law enforcement raided his home, two months following the arrest of his foundation's former executive director on child-pornography charges.
"Subway and Jared Fogle have mutually agreed to suspend their relationship due to the current investigation," the company said in an e-mailed statement. "Jared continues to cooperate with authorities, and he expects no actions to be forthcoming."
The U.S. Federal Bureau of Investigation and Indiana State Police on Tuesday went into Fogle's home and removed electronics, the Associated Press reported. Federal prosecutors charged the former executive director of Fogle's foundation in May with producing and possessing child pornography, the news service said.
"Jared has been and continues to cooperate with law enforcement and its investigation of unspecified charges and looks forward to the conclusion of that investigation," Ronald E. Elberger, a lawyer representing Fogle, said in a telephone interview. "He has not been detained, arrested or charged with any crime or offense."
Fogle shot his first Subway commercial in 2000 and has been a prominent spokesman for the sandwich chain since then. The chain highlighted his personal story of losing weight on a diet primarily consisting of the company's sandwiches. Fogle started the Jared Foundation, which raises money to fight the spread of childhood obesity, in 2006.
Before it's here, it's on the Bloomberg Terminal.
LEARN MORE