Greek Creditors Clash on Bridge Financing
James G. Neuger and Rebecca Christie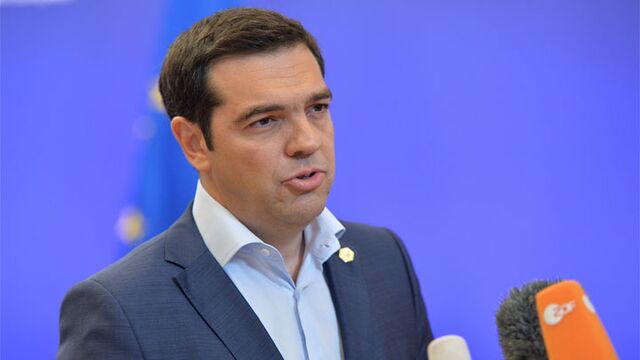 Greece's creditors sparred over offering short-term loans to stave off a financial collapse after the country's voters rejected austerity and the nation's rescue program lapsed.
With cash draining out of Greek banks and a payment looming to the European Central Bank, finance ministers from Austria and Luxembourg signaled an openness to the need for bridge financing to accompany talks over a new bailout.
"It doesn't have to be a solution for a long-term program, but there has to be a liquidity solution," Austrian Finance Minister Hans Joerg Schelling told reporters Tuesday in Brussels before euro-area crisis meetings. Luxembourg's Pierre Gramegna said: "Bridge financing can be a solution to open the banks in a few days, maybe next week."
Echoing the consensus, both said the onus is on Greece to show it deserves more aid by proposing a viable economic overhaul package. Greece's day-to-day struggle for financial survival risks hitting the wall on July 20, when the government is due to pay 3.5 billion euros ($3.8 billion) to the ECB.
A German government official said the Greek government didn't offer new proposals at Tuesday's meeting.
Greece Prime Minister Alexis Tsipras asked for a two-year loan from the European Stability Mechanism, the euro-area's firewall fund, in a June 30 letter. For this request to proceed, finance ministers need to send a letter to the European Commission allowing a bailout design to move ahead.
As the meeting got under way, Slovakian Finance Minister Peter Kažimír said on Twitter that he was skeptical a deal will be struck.
Prior Actions
Greece's aid requests to creditors are based on the list of prior actions published by the European Commission on June 28, a person familiar with the matter said Monday. Ahead of the Eurogroup meeting, the Greek government planned to propose five amendments to the list of prior actions the European Commission requested as a condition of aid before June 30. Those actions related to value-added taxes, pensions, military spending, tax rebates for farmers and other reforms.
Those proposals gained little favor from euro-region finance officials on a Monday conference call to prepare for Tuesday's meetings. The June 30 offers have expired with the second bailout program, so any new financing would have to be part of a comprehensive new aid deal, the officials said.
Euclid Tsakalotos, named Greek finance minister after Sunday's anti-austerity referendum, didn't speak on his way into the meeting, which will be followed at 6:30 p.m. by a summit of euro-zone government leaders.
Red Lines
Austria's Schelling said there are "a number of variants" for getting Greece through the next few weeks, such as using untapped funds or striking ad hoc deals similar to the first Greek aid package in 2010.
With most ministers sketching out well-known red lines on the way into the meeting, Finland's Alexander Stubb said a short-term financing arrangement is not under consideration "at this particular stage."
German Finance Minister Wolfgang Schaeuble didn't go into the negotiating detail, emphasizing that it is up to Greece to sketch a path out of its economic misery.
"The pressure is mainly with the Greeks," Schaeuble said. "The Greek government has to indicate how they can agree with their creditors."
Read this next: