Cars
Kazakhstan's Rich Swap Horses for Rolls-Royces
Chinese demand is slowing, but the world's new rich still want luxury.
By and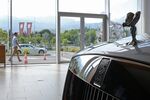 Rolls-Royce's search for buyers of cars like the $294,000 Wraith coupe has landed it in Kazakhstan, where the average person lives on about $330 a month.
Thanks to an abundance of oil and metals riches, the former Soviet republic has a big enough wealthy class to lure the likes of Rolls-Royce, Bentley and Maserati to the pot-holed streets of Almaty, Kazakhstan's biggest city.
In fact, more people in the central Asian country have ordered Bentley's upcoming sport utility vehicle than in neighboring Russia.

With growth in China's luxury market slowing, places like Kazakhstan and Azerbaijan are increasingly fertile territory for the makers of the world's most expensive cars. Demand for upscale vehicles in such frontier markets is forecast to grow more than 9 percent a year through 2020, compared with about 2 percent in North America and Europe, IHS Automotive estimates. 
When a company sells only a few cars each day, as Rolls-Royce and Bentley do, a few rich people able to afford them can make all the difference. Four of the six dealerships Rolls-Royce opened last year were in emerging markets: Azerbaijan, Cambodia, Mexico and Kazakhstan.
"We do see demand" in non-traditional markets, said Peter Schwarzenbauer, the BMW AG management board member responsible for Rolls-Royce. "That's why we're going there."

Beibit Alibekov, 31, is typical of the new generation of wealthy car enthusiasts in Kazakhstan. He owns five cars, including a Rolls-Royce Phantom bought at the Almaty dealership last year. With memories of communism fading, the country's well-to-do are keen to display their affluence, he said over coffee at a new luxury mall built on what was once an unfinished Soviet-era sports complex. 
Show-Off Purchases
"Kazakhs used to show off with horses," said Alibekov, who owns a media company and imported his first Bentley Flying Spur used from the U.S. for $130,000. "Now it's cars." 
Of course, the likes of Kazakhstan and Azerbaijan won't replace China, where luxury car demand is forecast to grow 6 percent annually over the next five years. While demand for luxury goods is slowing there, it's still the world's biggest car market, including a brisk trade for the Mercedes-Benz S-Class. The $230,000 Maybach version of the sedan is selling at a pace of 500 cars a month, outstripping deliveries elsewhere.

Even so, "there's also demand for our top-of-the-line models in smaller emerging markets like Vietnam or Kazakhstan," said Ola Kaellenius, the Mercedes sales chief. "In this price range, even small sales volumes matter."
As in the other developing countries where luxury carmakers have recently opened showrooms, the gulf between rich and poor in Kazakhstan is vast. Post-Soviet privatization under President Nursultan Nazarbayev created a class of super-rich that includes government officials and their family members, while a doctor makes less than $500 a month. Kazakhstan ranks 126th out of 175 countries on Transparency International's corruption index.
Dressage Horses
Unlike ultra-luxury buyers in more established markets, Kazakh customers don't usually customize their vehicles. Sales are more likely to be impulse purchases at events like a luxury expo this spring in Almaty.

With dressage horses on display in a manicured paddock, Kazakhstan's elite listened to rapper Ja Rule perform and honored the president's daughter. A Bentley was snapped up straight off the display floor.
In a sign of the close-knit relationship of the country's elite, Nurlan Smagulov, a real estate developer and the Rolls-Royce dealership's owner, publicly offered to name a mall in Nazarbayev's honor. Smagulov declined to comment for this story.
There are now about 250 Bentleys on Kazakh roads, including some 60 new vehicles sold since the British marque's Almaty dealership opened in 2011, said Vladimir Toropov, who directs sales for Bentley and Maserati.

Deliveries will probably double once Bentley's new Bentayga SUV is available, Toropov said, adding that his average Kazakh customer already owns four or five cars. For them, a Bentley is something like a tuxedo.
"He has an everyday suit, a sport suit and needs an evening suit," he said.
Update: Correction made in 14th paragraph.
Before it's here, it's on the Bloomberg Terminal.
LEARN MORE