S&P Rebounds as 200-Day Average Breach Serves as Turning Point
Callie Bost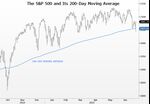 What broke the U.S. stock market's back nine months ago proved to be its springboard on Tuesday.
The Standard & Poor's 500 Index reversed a loss of as much as 1.2 percent to close higher by 0.6 percent, capping the biggest intraday reversal in almost four months. The rebound began after the index briefly fell below its average price in the last 200 days, a level monitored by technical analysts.
The benchmark gauge last sank under that level in October, when it finished below it for six straight days as U.S. stocks were in a 9.8 percent swoon. Traders barely flinched this time, recognizing it was mostly a function of the market's recent stasis. While the S&P 500 has hardly budged from levels seen four months ago, the moving average has climbed about 55 points.
"When you have 200 days and each day you have a higher number, mathematically it's going to move into the current spot you're at when you've done nothing in four months," said JC O'Hara, the New York-based chief market technician at FBN Securities Inc. "It's literally just a function of mathematics."
The S&P 500 fell as low as 2,044.02 Tuesday, before erasing the losses within two hours. It rose as high as 2,083.74, a swing of nearly 40 points that marks the biggest reversal since March 18. The index closed at 2,081.34, 26 points above its 200-day average of 2,055.44.
Bouncing Back
The market's ability to bounce back from that level is seen as a bullish sign by analysts, O'Hara said, because it shows stocks are still in demand at those prices.
Investors were also encouraged by developments in Greece Tuesday, with speculation growing that any fallout from the debt crisis will be contained after the nation sidestepped an immediate collision with creditors by promising to put its economic proposals in writing.
The gauge had fallen to within striking distance of the 200-day average in the past week as the unfolding turmoil in Greece and a plunging Chinese stock market diverted U.S. traders' attention from economic data and the Federal Reserve.
Breaking the 200-day moving average has been a rare occurrence since 2011, with stocks posting three years of double-digit gains. The S&P 500 has closed below the level for only 16 days since the beginning of 2012, according to data compiled by Bloomberg.
Stocks ended up recovering from the mid-October breach, which coincided with the closest to a 10 percent correction the U.S. market has seen since 2011. The gauge closed at fresh highs by the end of the month and rallied to an 11 percent advance by the end of 2014.
Options Havoc
While equities held gains Tuesday, some speculators are betting traders' luck will run out. In futures tracking the S&P 500, bearish positions outnumber bullish ones by the most in three years, according to data compiled by Bloomberg and the U.S. Commodity Futures Trading Commission.
Tuesday's equity swings wreaked havoc on options traders, with the Chicago Board Options Exchange Volatility Index, a gauge of S&P 500 hedging costs, whipsawing between gains and losses. The VIX climbed as much as 13 percent before plummeting to close down 5.4 percent to 16.09.
"Based on the fact that there's not much negative news, the market is just showing its usual resilience and realizing that things aren't that bad," said Karyn Cavanaugh, the New York-based senior market strategist at Voya Investment Management LLC. "There was too much negativity. The world's not falling apart, so the stock market feels a little more comfortable."