politics
Hillary Clinton Faults Republicans for Failing to Denounce Donald Trump
After almost three months on the campaign trail, the Democratic presidential candidate gives her first interview to CNN.
By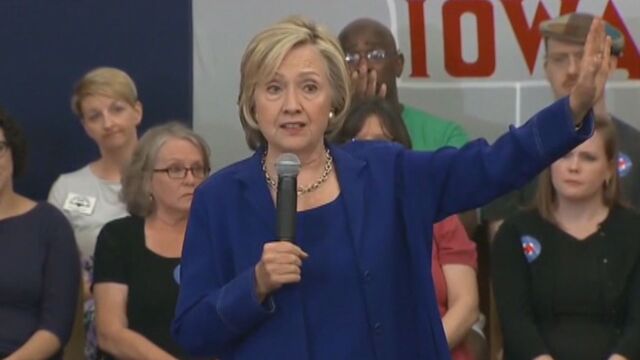 Hillary Clinton used her first nationally televised interview as a presidential candidate to attack the Republican party for failing to denounce Donald Trump's much-publicized comments on Mexican immigrants.
During a June 16 speech announcing his presidential campaign, Trump said Mexicans bring drugs and crime into the U.S. while also calling immigrants from Mexico "rapists." Clinton said she was disappointed in the Republican Party for not responding immediately to Trump's remarks and that Republicans are "all in the same general area" when it comes to their stances on immigration reform.
"They don't want to provide a path to citizenship," Clinton said. "They range across a spectrum of being either grudgingly welcome or hostile towards immigrants."
In the interview Tuesday with CNN reporter Brianna Keilar, Clinton addressed controversy over her past e-mails as secretary of state, her trustworthiness, and her relations with the press—even whether Kate McKinnon or Amy Poehler impersonates her better on Saturday Night Live (she declined to choose).
Much of the interview focused on questions about Clinton's trustworthiness, after Keilar said a recent CNN poll found that nearly six in 10 people polled didn't think Clinton was honest or trustworthy.
"I can only tell you, Brianna, that this has been a theme that has been used against me and my husband for many, many years," she said. "And at the end of the day, I think voters sort it all out."
On the subject of her use of a private server for e-mails as secretary of state, she said everything she did was appropriate. 
"Everything I did was permitted," she said. "There was no law. There was no regulation. There was nothing that did not give me the full authority to decide how I was going to communicate."
Clinton appeared less willing to discuss her opponent in the presidential primary, Vermont independent Senator Bernie Sanders. When asked about why Sanders is pulling large crowds in cities across the country, she said that she always expected the race to be competitive and repeated that she's happy about how her campaign is going. 
"I think I've learned a lot from listening to people in Iowa. And it's actually affected what I say and what I talk about on the campaign trail," she said. "So I couldn't be happier about my campaign."
Near the end of the interview, Keilar touched on Clinton's media strategy, including her use of a rope line to separate herself from reporters during a parade in New Hampshire over the weekend. Clinton said that she's focusing on listening to people talk about domestic issues this time around.
"I just have a different rhythm to my campaign. I'm not running my campaign for the press. I'm running it for voters," she said. "I totally respect the press and what the press has to do. But I wanted and was determined to have the time that I needed to actually meet and listen to people."
Before it's here, it's on the Bloomberg Terminal.
LEARN MORE