politics
Jeb Bush's Aggressive July Fundraising Schedule
The Republican presidential candidate is keeping his foot on the gas when it comes to collecting campaign cash.
By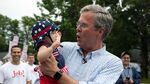 Republican presidential candidate Jeb Bush, who says he's never taken more than a week of vacation at a time, is going to be hitting a couple of resorts next week. But it's not about fun. It's about funds.
The two-day event for top donors at the Bush family compound in Kennebunkport, Maine, on Thursday and Friday, followed by a luncheon on Saturday at Martha's Vineyard, are part of the aggressive fundraising effort that's been a hallmark of the former Florida governor's campaign so far. He held 14 fundraisers in the first 18 days after kicking off his campaign. Another dozen are on tap for the rest of July, according to a schedule obtained by Bloomberg.
Next week, Bush heads west next week for four fundraisers in California:
July 14:  Los Angeles.
July 15: breakfast Pasadena, followed by lunch in Santa Barbara.
July 16: event in Silicon Valley.
Bush then returns to the East Coast to raise money in the backyard of rival Republican presidential candidate Chris Christie, New Jersey's governor. Bush will headline two fundraisers on July 23 in New Jersey (Middleton and Short Hills) and an evening event on July 25 in East Hampton, New York. 
The final two finance events right now on Bush's July schedule: a July 26 reception in Philadelphia and a July 31 fundraiser in Fort Lauderdale, Florida.
The fundraising push for his presidential campaign comes after Bush spent the first six months tapping the family's donor network and his own in Florida to raise money for the Right to Rise super PAC. Bush's team was aiming to raise $100 million in the first three months of the year. Bush has sought to spread some cash around to fellow Republicans, and told donors that he'd raised record-breaking amounts of early money. Top Bush ally Mike Murphy told super PAC donors that fundraising totals were going to give opponents "heart attacks," according to a BuzzFeed report.
The group's fundraising total will be public for the first time on July 30.
Before it's here, it's on the Bloomberg Terminal.
LEARN MORE