business
U.K. at Risk of 'Two-Tier' Economy as Services Drive Recovery
Jillian Ward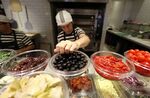 Britain is at risk of unsustainable "two-tier" growth as services continue to shoulder the economic recovery, the British Chambers of Commerce said.
While the service sector strengthened in the the second quarter, all key manufacturing balances fell and most are now lower than their pre-recession levels, according to a survey with almost 7,500 responses published Tuesday.
"The U.K. recovery remains unbalanced and growth is still too reliant on consumer spending," said David Kern, chief economist at the BCC. "While a healthy consumer sector is vital, much greater efforts are needed to increase the economic contributions of investment and exports -- which, in turn, will boost our productivity and help tackle the unsustainable external deficit."
The strength of sterling, a lack of capital, underinvestment in infrastructure and insufficient focus on helping businesses succeed in new overseas markets are all hurting U.K. manufacturers, the BCC said.
The survey underlines the task facing Chancellor of the Exchequer George Osborne as he prepares to announce his summer Budget on Wednesday. Osborne has pledged to twin cutting the fiscal deficit with a drive to rebalance the economy away from London and the southeast, the centerpiece of which is a "Northern Powerhouse" plan to regenerate cities such as Manchester.
The U.K.'s statistics office will publish manufacturing data for May on Tuesday, which is forecast to show factory production rose 0.1 percent from the previous month. While output has risen over the past two years, it remains about 5 percent below its peak before the crisis in 2008.
"The chancellor's budget, the forthcoming spending review and the remainder of this Parliament should focus on tackling these issues for the long term," said BCC Director General John Longworth. "If we are to secure long-term, sustainable, diversified growth, the government must tackle these structural problems, which act as a brake on our economy."
Read this next:
Before it's here, it's on the Bloomberg Terminal.
LEARN MORE