Three Months After Entering the Race, Hillary Clinton Gives First National TV Interview
The prospect of an interview with the Democratic frontrunner is creating headlines.
By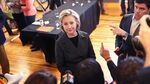 Hillary Clinton doesn't even need to do an interview for the interview to be breaking news.
With the Democratic presidential frontrunner's in-depth interactions with the media few and far between, CNN issued a press release Monday to announce that reporter Brianna Keilar has snagged "the first nationally televised interview" of Clinton's campaign, to be conducted Tuesday in Iowa.
The sit-down comes three months after Clinton officially launched her presidential bid and after a rough weekend in media relations.  The Clinton campaign has been roundly criticized for using ropes to corral reporters and photographers covering the candidate at an Independence Day parade in Gorham, New Hampshire.
While Clinton's Q-and-A with Keilar is the candidate's first with a national TV outlet, she's done a handful of interviews with reporters in Iowa, New Hampshire, Nevada and South Carolina, including a few with local TV stations.