Technip Shares Sink on Writedown, Job Cuts After Oil-Price Slump
Tara Patel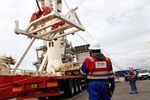 Technip SA shares fell the most in almost a year after the company announced plans to cut 6,000 jobs and reduce its fleet of oil-service ships to cope with the slump in crude prices.
Cutting 16 percent of its workforce and reducing its fleet to 23 vessels from 36 will help the company reach a cost-savings target of 830 million euros ($915 million), Paris-based Technip said in a statement on Monday. The company will take a one-time charge of 650 million euros for the restructuring, mostly in the second quarter.
"The slowdown in the oil and gas industry is prolonged and harsh," Chief Executive Officer Thierry Pilenko said in the statement.
Technip shares fell as much as 8.2 percent, the biggest intraday drop since July 24, 2014, and were down 7.6 percent to 49.64 euros at 9:21 a.m. in Paris. Oil services companies CGG SA and Saipem SpA also declined.
"Investors in Technip are right to feel upset at the scale of these writedowns," Sanford C. Bernstein analyst Nicholas J Green, who kept an outperform rating on the shares, wrote in a note. Calling on management to be "more open about inevitable risks in the order book" such as the now-halted Algeria refinery project, he said the measures are a calculated gamble.
Irrational Behavior
Technip supplies equipment and builds plants for oil and natural gas producers including Total SA, which are reducing spending after warning that some projects are no longer sustainable after the slump in crude prices.
Bidding for contracts has led to "irrational behavior" by some companies, Technip said. Talks on other orders have become protracted and led to projects being delayed or canceled. Pilenko said the outcome may lead to legal challenges in some cases.
The measures will be a "major adjustment" in Technip's cost base as customers are "relentless" in slashing their own expenses and the services industry faces overcapacity, he said. "We're not just sitting and waiting for oil prices to go up."
About 700 million euros of the company's savings will come in 2016 and the rest the following year, according to Technip. The lowering of costs will come in markets like the North Sea where new projects are "under pressure," it said.
"The sharp fall in oil prices has had a substantial impact on clients' behavior, national and international oil companies alike," the company said. "New projects continue to be deferred as clients assess their investment priorities in a durably changed oil price environment."
Restructuring Focus
During a conference call, Pilenko said the Algeria refinery project that was "well advanced" is now "finished at the client request," while Brazil's state-owned oil company Petroleo Brasileiro SA has made "tough choices" to focus on pre-salt developments rather than downstream.
A large part of the restructuring is in the company's onshore/offshore operations, which builds refineries and offshore installations like platforms, to address unsatisfactory performance, it said. The division's profitability will improve in the second half with adjusted underlying operating income from recurring activities of 140 million to 160 million euros, Technip said.
Technip will be "slowing down dramatically" its onshore/offshore businesses in Brazil, Pilenko said. Downstream projects in Latin America will "disappear" while they continue to be strong in North America.
The company affirmed its 2015 forecast for adjusted onshore/offshore revenue of 6 billion euros, and cut its expectations for adjusted operating income from recurring activities to 210 million to 230 million euros, from a previous range of 250 million to 290 million euros.
Adjusted operating income from recurring activities for subsea operations will be about 840 million euros and adjusted revenue will be from 5.2 billion to 5.5 billion euros.