politics
Obama Says Defeating Islamic State Requires Sustained Effort
Justin Sink and Toluse Olorunnipa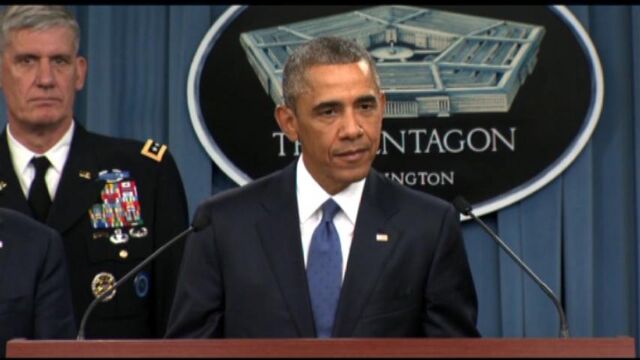 President Barack Obama said the fight against Islamic State won't be over quickly, while saying the group's strategic weaknesses mean it will eventually succumb to a sustained campaign of economic and military pressure.
Speaking after a briefing from Defense Secretary Ashton Carter, Joint Chiefs of Staff Chairman Martin Dempsey and other military commanders, Obama said local troops, in Iraq and Syria, are key to defeating the extremist group.
"This is a long term campaign," Obama said at the Pentagon. Islamic State "is opportunistic and it is nimble."
No amount of military force can dislodge Islamic State unless the "underlying conditions" of economic hardship and sectarian strife are addressed in the region, he said, characterizing the fight as a "generational struggle."
Recent loses of territory previously held by Islamic State in Iraq and Syria prove that the group "can and will be defeated," Obama said.
The visit to the Pentagon follows a weekend of heavy coalition airstrikes against Islamic State's stronghold in eastern Syria. More than a dozen strikes targeted buildings and transit routes used by the militant group, according to the Pentagon.
Carter said earlier Monday that the strikes helped support Kurdish forces who in recent days had made progress on the ground against Islamic State.
Local Forces
"That's the manner in which effective and lasting defeat of ISIL will occur," Carter said in a news conference at the Pentagon, using an alternative abbreviation for the group. "When there are effective local forces on the ground that we can support and enable so that they can take territory, hold territory and make sure that good governance comes in behind it."
Obama said the administration was looking for ways to cut off the finances of the terror group, and called on the Senate to schedule a hearing on Adam Szubin's nomination as Treasury undersecretary for terrorism and financial crimes.
The administration has come under criticism on Capitol Hill, however, as the U.S. and its partners have struggled to recruit local Iraqi and Syrian fighters to combat Islamic State.
Obama has repeatedly said he would not send U.S. ground forces into the fight, although last month he dispatched an additional 450 troops to Iraq to help train and equip local fighters. That brought the total number of U.S. forces in the region to 3,550.
Congressional Critics
The president's comments did little to satisfy critics in Congress, who say the administration has not done enough to combat the terrorist group.
"A speech isn't a strategy," said Cory Fritz, press secretary to House Speaker John Boehner, an Ohio Republican. "At no point in his remarks did President Obama indicate he's doing anything to change course and actually build the broad, overarching plan that's needed to take on these savage terrorists and win."
Republican Senator Tom Cotton of Arkansas said Obama is relying on Iran to carry out the fight, "allowing the ayatollahs to expand their malign regional influence."
U.S. Withdrawals
John McCain, the Arizona Republican who chairs the Senate Armed Services Committee, said Saturday during a visit to Kabul that conditions in Iraq should lead the president to reevaluate the withdrawal of U.S. forces from the country.
"With the rise of ISIS and the distinct fighting season that is marked this year, the threat environment continues to evolve in ways that clearly, in my view, demands a reassessment of the administration's current calendar-driven drawdown of U.S. forces with a plan that must be based on conditions on the ground," McCain said.
Obama's Pentagon briefing also follows a series of terror attacks last week, including the targeting of a Tunisian hotel that killed 38 people and the bombing of a Kuwaiti mosque, leaving 25 dead. In France, a truck driver with reported ties to Islamic terror organizations allegedly decapitated his boss and drove his vehicle into a U.S.-owned chemical plant.
The president said the attacks emphasized the complex nature of so-called lone wolf attacks, and the effectiveness of the Islamic State in targeting disillusioned Muslims across the globe. He said the U.S. and international partners needed to do more to combat "the twisted thinking that draws vulnerable people into their ranks."
"These small individual lone wolf attacks or small cells become harder to detect and they become more sophisticated using new technologies," Obama said. "And that means that we're going to have to pick up our game to prevent these attacks."
(Updates with Boehner spokesman comment in 13th paragraph.)
Before it's here, it's on the Bloomberg Terminal.
LEARN MORE