Restaurants
How Kitty Fisher's Became London's Neighborhood Restaurant
Kitty Fisher's is a simple, crowded, local restaurant. How did it get so popular?
By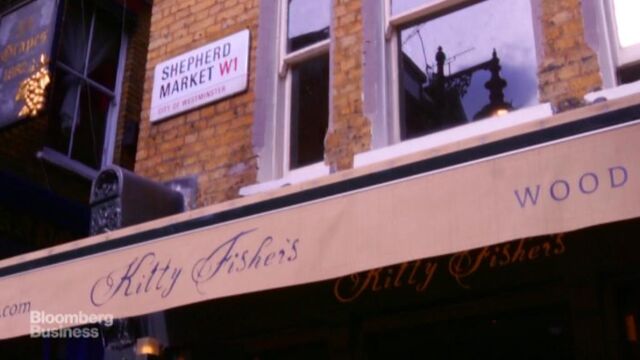 It's tempting to think there must have been some astonishingly smart PR mixed in with a bucketload of hype when a restaurant is as successful as Kitty Fisher's.
The basement dining room of this former curry house in Mayfair is so cramped, you bang your head on the lights and get intimate with strangers while trying to squeeze into your table.
People wait months for a booking. Prime Minister David Cameron is among those who have made it, along with a bunch of celebrities. Yet this isn't a starry hangout. It is low key, like a village pub with friendly service.
So how does Kitty Fisher's do so well when other restaurants fail? On a sunny afternoon, when the diners had left and the owners – Oliver Milburn, Tom Mullion, and Tim Steel – are pottering around doing chores, I ask why it works.

Connections are part of it. Milburn is an actor and is married to the BBC journalist Katie Razzall, the daughter of Lord Razzall. Milburn's parents bought the building that houses Kitty Fisher's after selling their business, Milburns Restaurants Ltd., which pioneered smart cafes in art galleries and museums.
Mullion is married to Emily Sheffield, who is deputy editor of British Vogue and the sister of Cameron's wife Samantha. He helped found All Star Lanes, 10-pin bowling venues serving cocktails and food. Steel is an entrepreneur whose main restaurant experience centers on a café he opened in Plymouth.
"We are three old friends who wanted to set up a restaurant," says Mullion, whose eclectic resume includes time as an oil trader and as an actor. "Now, it's an uneasy thing having to turn people away and managing expectations, too. Some people see the reviews and the hype and that's an awful beast to deal with. People are disappointed that it's not what they've built up in their mind. We set out to be a humble neighborhood joint, albeit in Mayfair, so not that humble."
The owners attribute much of the success to the choice of Tomos Parry as chef. Parry was cooking in East London at Climpson's Arch when they first came across him.

"We were quite close to being desperate to find a chef," Milburn says. "Tom Mullion saw a tweet Tomos had sent saying that he was grilling grouse in Hackney and we thought that was pretty cool."
Mullion trailed out to Hackney to try Parry's cooking and was smitten. Parry joined up along with his best mate, Chris Leach.
 The basement kitchen at Kitty Fisher's is tiny. Most of the dishes are cooked on an open grill, inspired by Basque Country cuisine. The restaurant seats just over 40 guests.
The menu is short, with about five starters and five mains, including Challans duck, asparagus, radish and cherries at 27 pounds ($42). The signature is aged Galician beef from dairy cows that are 10-to-14 years old.
"People in the U.K. generally haven't experienced that kind of flavor because we have to slaughter cows very young," chef Parry says. "It doesn't taste like beef. It is something completely different, very buttery and rich in flavor. It's unique." 
The service can be the other surprise at Kitty Fisher's. The manager is a former waitress from Llanthony, a farming valley in the Black Mountains of south Wales. Kiloran Buckler moved to London when the restaurant opened on December 3, 2014.

"I love it because we are so small and, having such a small team, we have to get on and we do get on," she says.
She attributes the success to the cooking and to the relaxed atmosphere. She smiles when she talks about the lengths people go to for a table.
"We've just had a letter from a woman who wrote a poem about the fact that she wanted to come and eat at Kitty Fisher's and she couldn't get a table. Please could she get a table?"
For everyone else, here are a couple of hints. Milburn says if you want a table, just show up. There is room for walk-ins. If you can't eat right away, the reservations book is on the bar.
If you do get lucky and want to be really cheeky, I can tell you that the best tables are nine – known by the staff as the Lords' Table – which seats two, and the larger table eight.

Oh, and the owners didn't pay for PR. You probably don't need it when you have more connections than Vodafone.
Kitty Fisher's isn't the best restaurant in London but it is one of the most enjoyable. The food is good, the service is friendly and the ambience is relaxed. I reckon the success is deserved.
Now can I have a table, please? Or should I put that in verse?
Kitty Fisher's is at 10 Shepherd Market, Mayfair, London, W1J 7QF.
Richard Vines is the chief food critic for Bloomberg. Follow him on Twitter @richardvines.
(Corrects spelling of Kiloran Buckler in 14th paragraph and photo caption.)
Before it's here, it's on the Bloomberg Terminal.
LEARN MORE