Battersea Luxury House Prices Fall 10% on Stamp Duty Rise
Neil Callanan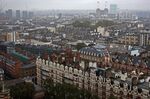 Luxury houses in London's Battersea and Battersea Park districts fell 10 percent in the 12 months through June as a rise in sales tax damped demand, broker Douglas & Gordon Ltd. said.
Houses valued at 1.3 million pounds ($2 million) or more in the districts, which include the area around Battersea Power Station and the new U.S. embassy, were the worst performers in areas the broker describes as "emerging prime." The decline compares with a 0.84 percent decrease in the value of homes in the 10 districts included in the survey.
Chancellor of the Exchequer George Osborne increased the transaction tax known as stamp duty for buyers of homes that cost more than 937,000 pounds in December. The tax rises incrementally to as much as 12 percent for the portion paid above 1.5 million pounds.
That's led to reduced demand for large family homes in the Battersea districts. The average offer price of a three-bedroom home in Battersea Park is 1.3 million pounds, according to broker Foxtons Plc.
The other districts included in the Douglas & Gordon index are Balham, Clapham, East Putney, West Putney, Southfields and Earlsfield, Hammersmith and Shepherd's Bush, Pimlico and Westminster and Fulham. They were defined as emerging prime because of the influx of wealthy buyers.
Before it's here, it's on the Bloomberg Terminal.
LEARN MORE