business
Gas-Starved Factories Pay a Price as Egypt Keeps Lights On
Ahmed Feteha and Tamim Elyan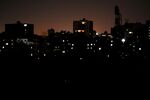 As Egyptian industrialist Moataz Al Alfi enjoys the chilly blast from his air-conditioning -- the first time in three summers his Cairo home has had a reliable electricity supply -- he knows the improvement is coming at the expense of his fertilizer plants.
The government has taken "a sovereign decision that it's more important to generate electricity" for households than provide energy to factories, Al Alfi, chairman of Egypt Kuwait Holding Co., said in an interview. While that's been true to some extent since 2011, it's "much worse" this year, he said.
Repeated power cuts, especially during the summer months, helped fuel anger against Islamist President Mohamed Mursi, who was toppled by the army in July 2013 after widespread protests. The current government, led by former army chief Abdel-Fattah El-Sisi, isn't taking any chances: keeping the lights on at home comes first.

That decision carries risks for an economy that has stagnated during four years of turmoil. The government predicts a rebound this year, forecasting growth above 4 percent for the first time since 2010. Yet lower energy supplies are hurting industry. Non-oil exports tumbled 20 percent to $8 billion in the first five months of this year.
"We give priority to electricity," said Khaled Abdel Badie, chairman of the state-run Egyptian Natural Gas Holding Co. The power-generation industry gets "100 percent of its needs and then we give the rest to factories."
'Halted Indefinitely'
Many Egyptian industries use gas to generate power while the fertilizers sector uses it as a raw material. At the end of March the government told steel, petrochemicals and cement producers that pumping would be "halted indefinitely," said Mohamed Hanafy, head of the Chamber of Metallurgical Industries at the Federation of Egyptian Industries.
Most factories have been able to operate no more than 40 days this year, he said.
Steelmaker El Ezz Aldekhala said last week its plants are experiencing a "severe" gas supply shortage. Shares in the company have tumbled 26 percent this year, compared with a 10 percent drop in the benchmark EGX 30 Index. Al Alfi's Egypt Kuwait Holding has dropped 17 percent.
Egyptians began to feel an energy crunch after the 2011 uprising against Hosni Mubarak, as investment in natural-gas exploration dwindled and demand quickly outpaced supply.
Seeking to bridge the gap, the government began importing liquefied natural gas in April and rented a facility that turns it into gas pumped into pipelines.
Window Shut
"There was a short window for improvement before the summer when imports started, but it quickly closed," Mohamed Abu Basha, a Cairo-based economist at EFG-Hermes Holding SAE, said by phone. "The extra gas only allows improvement in electricity to households, not more."
Abu Basha said the gas supply to factories should improve when a second so-called regasification unit the government is planning to rent starts operating in October.
The industrial slowdown means Egyptian companies are struggling to export, adding to a foreign-currency squeeze that's left the country dependent on handouts from its oil-rich Gulf backers.
In fertilizers, natural gas is provided to plants which produce for the local market, not to exporters, according to Mohamed Salem, head of research at Cairo-based investment bank Prime Securities. Exports of petrochemicals and building materials, which make up about a third of non-oil sales, fell 28 percent in the first five months.
Industries, at the mercy of political priorities, have little to do but wait for the summer to end.
"They told us they aren't committed to pump gas," industrialist Hanafy said. "Go figure it out."
Before it's here, it's on the Bloomberg Terminal.
LEARN MORE