business
China Brokers Dust Off Wall Street Playbook From 1929 Crash
Bloomberg News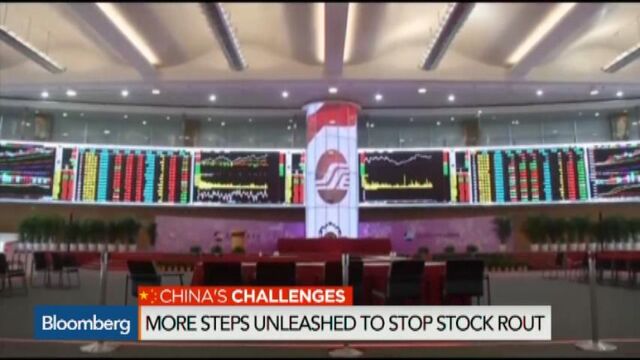 On Wall Street in 1929, it was the great banking houses of J.P. Morgan and Guaranty Trust Company.
In China today, it's names like Citic Securities Co. and Guotai Junan Securities Co.
They're separated by 86 years and 7,300 miles, but Chinese financiers are turning to the same playbook used by their American counterparts to fight a crash that's wiping out stock-market fortunes on an unprecedented scale.
Investors in China are hoping it works out a lot better this time around.

When five of America's most-powerful financiers met at the House of Morgan at 23 Wall Street on Oct. 24, 1929, the immediate impact of their plan to pool resources and prop up the market was encouraging: the panic of Black Thursday gave way to a recovery and the New York Times lauded the bankers for putting a floor under share prices.
The boost to confidence didn't last long. The rout resumed by the following Monday, with the Dow Jones Industrial Average losing 13 percent. The gauge would go on to drop another 34 percent over the next three weeks, as the attached chart shows.
The support measures in China may also have a fleeting impact, according to Hao Hong, a strategist at Bocom International Holdings Co. in Hong Kong.
Too Small
A group of 21 Chinese brokerages pledged on Saturday to commit 120 billion yuan ($19.3 billion) to a large-cap stock fund, designed to stabilize shares after the biggest three-week rout in the Shanghai Composite Index since 1992. The move coincided with a flurry of other market-boosting measures, including a halt to initial public offerings and regulatory moves to discourage short sellers.
With daily turnover on Chinese markets approaching 2 trillion yuan, the support fund may be too small to have a meaningful long-term impact, according to Hong. It also does little to boost confidence in small-cap stocks, some of the biggest losers during the rout.
More than two stocks dropped for each one that rose on the Shanghai Composite Index, which climbed 2.4 percent at the close. The benchmark gauge was supported by gains in PetroChina Co. and Industrial & Commercial Bank of China Ltd., the two largest members on the index, amid speculation of buying by state-directed funds. The small-cap ChiNext index tumbled 4.3 percent.
"This 120 billion yuan won't last for an hour in this market," Hong said by phone from Beijing Saturday. "It might benefit blue-chip stocks, as investors may see them as value, but the bursting of the bubble in small-cap/tech stocks is likely to continue."
Read this next:
— With assistance by Michael Patterson, and Feiwen Rong
(Updates Monday's trading in 10th paragraph. For more on Chinese stocks, click here.)
Before it's here, it's on the Bloomberg Terminal.
LEARN MORE