business
Losing $1 Billion Each Minute, China Blames the Wrong Group
Bloomberg News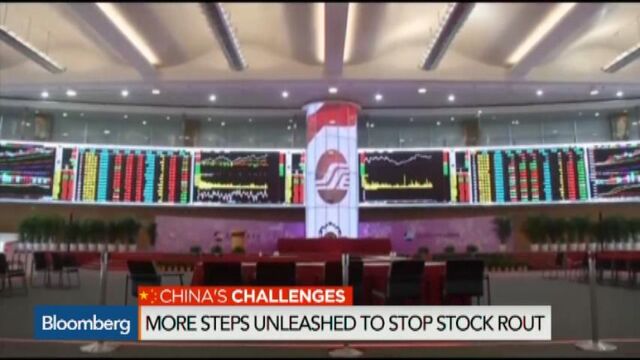 Rumor-spreading short sellers and foreign investors with a hidden agenda.
If you believe China's state-run media, those are some of the key culprits for a stock-market rout that erased $3.2 trillion of value in three weeks -- or almost $1 billion for each minute of trading on mainland exchanges. The underlying message, that market manipulation is fueling the selloff, was reinforced by securities regulators last week as they pledged to crack down on "vicious" short selling.
The problem with that narrative, though, is that the numbers tell a different story. Short positions on the Shanghai Stock Exchange totaled just 1.95 billion yuan ($314 million) on Thursday, or less than 0.03 percent of the country's market capitalization, as bears closed out more than half their bets since June 12. Foreign money managers own fewer than 3 percent of Chinese shares, and they've been adding to holdings in Shanghai as prices tumble.
The more likely reason for the rout, according to analysts in and outside China, is simply that the nation's longest-ever bull market pushed valuations to unsustainable levels. Local investors, who borrowed record amounts of money to amplify their bets, lost faith that share prices would keep rising and now they're heading for the exits.
Wrong Way
Instead of looking for scapegoats when share prices sink, authorities should push forward on pledges to reduce the government's role in markets, according to Teng Bingsheng, associate dean at the Cheung Kong Graduate School of Business in Beijing. Stocks kept sliding last week even as policy makers cut interest rates, relaxed rules on margin trading and reduced transaction costs in an attempt to revive investor confidence.
"They are trying to stop the plunge, but this is clearly the wrong way to do it," Teng said in a phone interview on Friday. "The Chinese stock market is already the most manipulated in the world. It's an overheated market and you can't stop people from selling."
A faxed request for comment to the CSRC after regular business hours on Friday wasn't returned.
The Shanghai Composite tumbled 29 percent from June 12 through last week, following a 150 percent surge in the preceding 12 months that sent its median stock's valuation to 108 times earnings. The gauge sank 5.8 percent on Friday despite the CSRC's announcements that it will investigate short sellers and "strictly" punish market manipulation.
Short Selling
After markets closed, China's financial futures exchange made it more expensive to speculate on stock-index contracts and said it will inspect traders to prevent "deliberate shorting." Chinese brokers set up a fund to support share prices, while companies suspended plans for initial public offerings to help reduce the supply of new equity.
The Shanghai Composite rose 2.4 percent at the close on Monday, paring a 7.8 percent gain at the open. The ChiNext index, dominated by smaller technology companies, slid 4.3 percent. Hong Kong's Hang Seng China Enterprises Index lost 3 percent.
Even if there is some unlawful trading by short sellers in China, Galaxy Securities Co. says the bearish bets wouldn't be big enough to take down the whole market. Short interest on the Shanghai Stock Exchange is the lowest since July 2014, while the China Financial Futures Exchange said last week it didn't find "large scale" short selling when it checked stock-index futures trading by foreign money managers.
Hidden Agenda
Under China's quota-based programs for overseas investors, their maximum potential holdings come in around $166 billion, or about half the market value of PetroChina Co., the nation's biggest company. International investors bought a net $2.7 billion of shares through the Shanghai-Hong Kong exchange link over the past three weeks.
"The core reason for the slump was that the market has gone up too much and valuations of many stocks were extremely high," said Qin Xiaobin, a Beijing-based strategist at Galaxy Securities. "There's not enough evidence to convince me that short-sellers are to blame, and how could you tell apart a short-seller who has 'vicious' purpose from those who haven't?"
That hasn't stopped state-run media, who helped spark the bull market by advocating equity investment toward the end of last year, from assigning blame. Financial News, backed by Chinese authorities including the central bank, ran an opinion piece on Friday that asked if Morgan Stanley had a "hidden agenda" connected with the stock market.
The author, whose title and expertise weren't specified, questioned Morgan Stanley estimates on the outlook for Chinese shares and alleged that it had been among global short sellers trying to talk down the market. The article was shared on Twitter by China's official Xinhua News Agency.
Nick Footitt, a Hong Kong-based spokesman for Morgan Stanley, declined to comment.
Margin Bets
On Thursday, five Beijing finance professors issued a statement that was picked up by news services across the country, saying that wealthy and sophisticated short sellers from overseas were robbing small Chinese investors and ignoring risks of market instability. The group of academics didn't cite any evidence.
In China's Securities Daily on Wednesday, the publication's deputy editor-in-chief wrote that losses in Chinese stocks were caused by a short-seller "attack."
Of course, many of China's 90 million individual investors have their own ideas about what's causing the retreat. Shi Jianqing, a 38-year-old accountant at an auto-parts manufacturer in Shanghai, says the most plausible reason is that speculators are unwinding leveraged bets.
Margin traders, who boosted wagers nine-fold to about 2 trillion yuan ($322 billion) in the past two years, have been closing out those positions for a record 10 straight days.
Market Economy
"There are lots of arguments about this rout, including the conspiracy theory that some people want to viciously short," said Shi, who's sitting on a loss of about 30 percent on his stock investments. "But I think margin trading should be the main culprit. The regulator underestimates the amount and the power of margin lending."
So far, there's no sign that Chinese authorities will slow down efforts to reform the stock market by opening up to foreign investors, said Sandy Mehta, the chief executive officer of Hong Kong-based Value Investment Principals. Regulators have said they'll replicate the Shanghai-Hong Kong exchange link for Shenzhen's bourse by year-end.
The authorities appear "committed to a market driven economy, including the stock market, but they clearly want to do this in an orderly fashion without causing too much turbulence in the process," said Gerry Alfonso, a director at Shenwan Hongyuan Group Co. in Shanghai.
Inevitable Swings
As the role of stock markets in China increases, authorities should worry less about finding someone to blame for swings in securities prices because they're an inevitable part of an evolving economic outlook, according to Hu Xingdou, an economics professor at the School of Humanities and Social Sciences at Beijing Institute of Technology. He says shares are falling now in part because China's growth is slowing.
"The decline is more about the fundamentals of the economy," Hu said. "Investors are getting nervous."
(An earlier version of this story corrected the size of per-minute losses.)
— With assistance by Jun Luo, Shidong Zhang, and Allen K Wan
(Updates with Hong Kong trading in 10th paragraph. For more on Chinese stocks, click here.)
Before it's here, it's on the Bloomberg Terminal.
LEARN MORE