Photographer: Kostas Tsironis/Getty Images
Greece Referendum: What Happens If They Vote 'No'
And also if they say "Yes" (though that's less complicated)
By
Greeks are being asked to vote on whether to accept a proposal by the country's creditors for more austerity to keep aid flowing.
Voters have received a clear message from the euro area: vote "Yes" in the July 5 bailout referendum. But Greece's Syriza-led government is pushing the other way.
The Question:
The 68-word ballot question namechecks four international institutions and asks voters for their opinion on two highly technical documents that weren't made public before the referendum was called. Here it is, translated into English:
"Greek people are hereby asked to decide whether they accept a draft agreement document submitted by the European Commission, the European Central Bank and the International Monetary Fund, at the Eurogroup meeting held on on June 25 and which consists of two documents:

''The first document is called Reforms for the Completion of the Current Program and Beyond and the second document is called Preliminary Debt Sustainability Analysis.

''- Those citizens who reject the institutions' proposal vote Not Approved / NO

''- Those citizens who accept the institutions' proposal vote Approved / YES.''
Not everyone in Greece is finding the question easy to understand.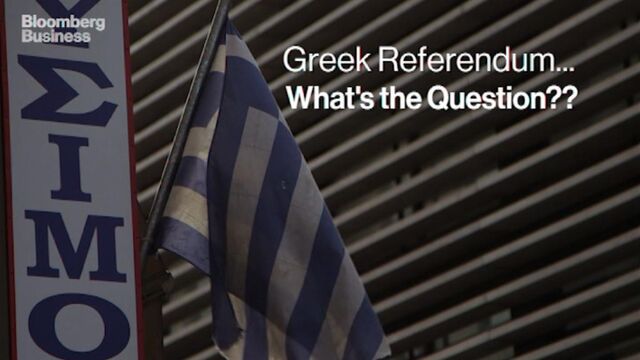 What Happens Next?
With polls showing a tight result, the only thing certain about the referendum is the timing: polls are open from 7 a.m. to 7 p.m. and the result may be known before midnight. 
Either way, what follows are emergency negotiations, the outcome deciding which side feels it has the upper hand.

The following scenarios are based on conversations with officials working on how to handle the Greek crisis, along with investors and economists.
Scenario 1: "Yes" – Then a Third Bailout
If Greeks vote "Yes" a third bailout package could come together in a matter of weeks if all sides put their minds to it, although Greece might need to form a new government in the same period. Results from the referendum could be known within hours, and some politicians have raised the prospect of a national unity, pro-European government with parties that backed a "Yes" vote.
Euro-area officials would probably reconvene quickly to consider next steps. Once there's a deal in principle, it's even possible Greece could win disbursement of 3.3 billion euros ($3.7 billion) from central-bank profits on bond purchases – money that was set aside for the second bailout and then taken off the table on June 30.
Scenario 2: Greece Vote "No"
If voters heed Prime Minister Alexis Tsipras's recommendation and reject the bailout terms, Greece wouldn't leave the euro overnight. Instead, the country would face three or four weeks of increasing pressure to start printing its own money.
That's because Greek banks might soon be unable to meet European Central Bank demands for the collateral needed to keep access to Emergency Liquidity Assistance, and the Greek government would run out of cash to pay its bills and workers. At that point, it would be Greece's decision to back out of the currency bloc.
Does the ECB Then Withdraw Support Immediately?
Not necessarily. The ECB probably won't withdraw its support overnight. Instead, the institution's bank supervision arm will decide how to value the government-backed assets held on Greek banks' balance sheets. Meanwhile, the central bank's monetary policy arm will consider whether to object to collateral that lenders post to gain ELA access from the Bank of Greece.
Then, the banks would face a call for new collateral and might come up short. Taken together, the supervisory and ELA review could show the Greek banks to be insolvent, and Greece wouldn't have the means to use euros to prop them up again.
Greece also faces a series of financing hurdles, including bill refinancings and loan repayments. Things could come to a head on July 20 – if they haven't already – when Greece needs to repay about 3.5 billion euros in bond redemptions for securities held by the ECB.

How Will the Lawyers Handle It?
Once Greece restarted its own currency, the legal procedures would need to play catch-up. Any contracts signed in euros will be thrown into question. Some sort of legal procedure will then need to be found to get Greece out of the euro, or at least to suspend its membership.
As one way around the hurdle, euro-area finance ministers are considering whether Article 352 of the European Union's founding treaties might offer some basis. That section, which provides for the extraordinary adoption of measures, can only be used by unanimity and working with the European Commission and European Parliament. 
What Would Happen When the Drachma Returns?
Any new currency would probably start off by posting a hefty discount to the euro. Analysts have said Greece's citizens would see an initial 30 percent to 40 percent drop in their purchasing power should the nation replace the euro.
After introduction, its value could sink lower as prices rise at the same time and inflation picks up. If Greece is lucky, the new currency would reach an equilibrium after a few months, perhaps buoyed by savings, foreign-held euros and tourism spending.
It's also possible the Greek economy could go into freefall. At that point, they might need another international bailout anyway, when things could look far worse.