Stimulus-Averse Mexico Is an Investor Darling
The government's reluctance to spur growth is reassuring
By and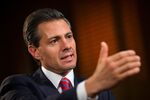 It's been decades since Mexico has posted growth rates worthy of an emerging-market tiger. Its performance during the commodities boom was middling compared with the rest of Latin America and trailed Brazil and Argentina. Yet Mexico is the standout now that its flashier peers are stumbling. Its economy is poised to grow 2.6 percent this year, according to a Bloomberg survey of 32 Wall Street analysts. That's compared with what the International Monetary Fund projects will be a regional average of less than 1 percent. "Maybe it's not as good as expected," said Mexican President Enrique Peña Nieto in a June 11 interview, "but it's better than other nations."
That 2.6 percent forecast is about half the more than 5 percent annual growth Peña Nieto said Mexico could achieve in the medium term if Congress endorsed his proposals. His administration hasn't come close to hitting its own growth targets since taking office at the end of 2012.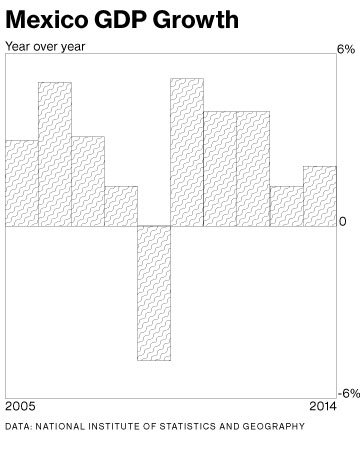 Blame it on an aversion to government stimulus shaped by more than two decades of currency devaluations triggered by excessive government borrowing and overspending. One academic dubbed the phenomenon the Sexenio Curse, because the crises coincided with either the beginning or the end of one of Mexico's six-year presidential terms; the first devaluation crisis took place in 1976 and the last in 1994, when 48-year-old Peña Nieto and key members of his economic team were beginning their careers.
Argentina and Brazil are not opposed to stepping up spending—especially around election time. But Mexico nowadays prefers to be "prudent and responsible," says Peña Nieto. Although his government could be exploiting low borrowing costs, it's implementing spending cuts with an eye to balancing the budget by 2017, excluding investments in state-run oil giant Pemex.
This parsimony has made Latin America's second-largest economy a favorite among bond investors, says Credit Suisse Group chief Latin America economist Alonso Cervera. Bumping up spending now could be "dangerous," he says, because once the U.S. Federal Reserve nudges up interest rates, Mexico may have to do the same to keep capital from flowing north.
Along with other analysts, Cervera expects growth to pick up in the second half of the year, as the U.S. recovery strengthens and Mexico opens its energy sector to private investment for the first time since 1938. Factories that produce primarily for export are humming, thanks in part to an 18 percent drop in the peso's value against the dollar over the past year. Ford Motor, Toyota Motor, and Volkswagen are pouring billions into Mexican plants to take advantage of the more competitive exchange rate. All of this will bolster growth in the second half to an annual rate of almost 4 percent, forecasts Credit Suisse—nearly double the pace of the first half.
Mexico's stability-over-stimulus approach is even winning praise from some of its victims. Shares of the nation's largest builder, Empresas ICA, have tumbled more than 50 percent since Peña Nieto took office, partly because spending on public works is being rolled out more slowly than expected. "We're in an industry that would benefit from more stimulus," says Chief Executive Officer Alonso Quintana. "But we can understand a more conservative approach given Mexico's history."
Peña Nieto hasn't given up trying to reach his target growth number. He spent the first two years of his six-year term overhauling energy, education, telecommunications, and lending laws. "Why didn't we reach those levels?" Peña Nieto asks. "Well, it takes time. Everything is part of a process."
The bottom line: Mexico's government has proved unwilling to sacrifice fiscal discipline to stoke growth.
Before it's here, it's on the Bloomberg Terminal.
LEARN MORE