Labor Market Runs in Place; More Jobs, Participation Lowest Since 1977
Shobhana Chandra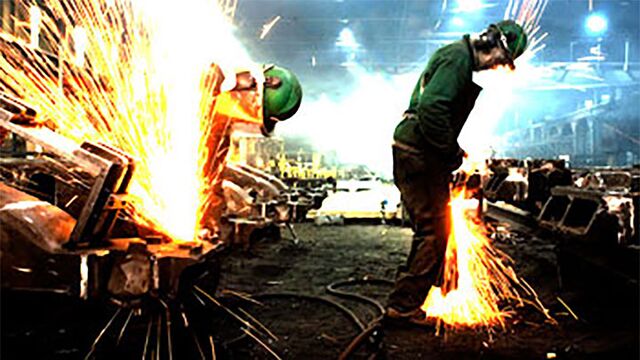 The U.S. labor market took one step forward and one back in June as job creation advanced while wages stagnated and the size of the labor force receded.
The addition of 223,000 jobs followed a 254,000 increase in the prior month that was less than previously estimated, a Labor Department report showed Thursday in Washington. The jobless rate fell to a seven-year low of 5.3 percent as people left the workforce.

The figures indicate the economy is improving slowly following a first-quarter slump rather than surging ahead as consumer spending strengthens. That will probably keep Federal Reserve policy makers on course to raise interest rates later this year with subsequent increases coming only gradually.
"The labor market is good, there's just not any wage pressure," said Joseph LaVorgna, chief U.S. economist at Deutsche Bank Securities Inc. in New York, who correctly projected the drop in unemployment. "The disappointment is on wages and on the participation rate."
Earnings at private employers held at $24.95 an hour in June on average and rose 2 percent over the past 12 months, matching the mean since the current expansion began six years ago. Wages had increased 2.3 percent in the year ended in May.
Seasonal adjustments, or a calendar bias, probably explained some of the downward pressure on the wage figures in June after artificially boosting them in May, according to economist Ted Wieseman of Morgan Stanley and Lou Crandall, chief economist at Wrightson ICAP LLC.
Calendar Bias
The Labor Department surveys employers for the week that includes the 12th of the month. That means the survey week last month ended on Saturday, June 13. Those getting paychecks bi-monthly would normally not be paid until the 15th, which has tended to distort the wage readings when the survey week comes so early, Wieseman in New York said in a research note.
"We've got to pick up the pace on wages," Labor Secretary Tom Perez said in a phone interview. "There's still significant slack."
Stocks fell, with equities posting their biggest weekly decline since March, as investors waited for Greece's weekend referendum on austerity measures. The Standard & Poor's 500 Index declined less than 0.1 percent to 2,076.78 at the close in New York. The weak wage reading lifted Treasuries, dropping the yield on the benchmark 10-year note to 2.39 percent from 2.42 percent late on Wednesday.
The median forecast in a Bloomberg survey projected payrolls would advance 233,000. Estimates of 97 economists ranged from gains of 160,000 to 350,000 after a previously reported 280,000 increase for May. Revisions subtracted 60,000 jobs from the previous two months' readings.

Jobless Rate

The unemployment rate, which is derived from a separate Labor Department survey of households, was the lowest since April 2008, falling from 5.5 percent in May. The labor force shrank by 432,000 people last month, accounting for the bulk of the drop in joblessness.
The participation rate, which indicates the share of the working-age population in the labor force, decreased to 62.6 percent, the lowest since October 1977, from 62.9 percent. Labor force participation slumped among teens, with a more moderate decrease among men 20 years and older.
There were positive developments among those who had been struggling. The share of people out of work for 27 weeks or longer -- the so-called long-term unemployed -- dropped to 25.8 percent, the lowest since March 2009. The 2.8 point drop from May's 28.6 percent was the biggest one-month decrease since records began in 1948.
Less Slack
Also, the number of Americans working part-time for economic, rather than personal, reasons fell to 6.5 million, the fewest since 2008.
That caused the underemployment rate, which includes discouraged workers who are no longer looking for a job and the part-timers who'd rather be full-time, to decrease to 10.5 percent, the lowest since July 2008, from 10.8 percent in May. The rate has dropped 1.5 percentage points over the past year compared with a 0.8 point decline in total joblessness.
Such decreases in so-called slack are among reasons Fed policy makers may begin to raise the benchmark interest rate this year.
Central bank officials want to see continued improvement in the job market and have confidence inflation will pick up before they raise the benchmark federal funds rate, which they have held near zero since December 2008. They have two more jobs reports before their September meeting.
Consumer Spending
Recent data underscore why employers are adding staff. Consumer purchases, which account for about 70 percent of the economy, rose 0.9 percent in May, the biggest gain since August 2009, Commerce Department figures showed last week.
Households are feeling upbeat about employment prospects as more respondents than at any time since early 2008 said jobs were plentiful, a Conference Board report showed on Tuesday.
A separate report from the Labor Department showed applications for unemployment benefits held below 300,000 for a 17th straight week. Jobless claims rose by 10,000 to 281,000 in the week ended June 27. The median forecast called for 270,000 applications.