The Market Doesn't Believe Kuroda
Kevin Buckland and Shigeki Nozawa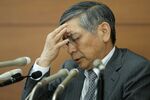 Bank of Japan Governor Haruhiko Kuroda's confidence about reaching his 2 percent inflation target next year isn't shared by bond investors, market gauges are signaling.
While a global bond rout has pushed up longer-dated sovereign yields in Japan, traders' conviction that the central bank is nowhere near an exit of record stimulus has kept short-dated yields anchored. The spread between the two- and 10-year notes is approaching a 14-month high.
Kuroda said Sunday the BOJ's commitment to fostering 2 percent inflation "will never be compromised," even as there's a risk that won't be reached in the target period of April to September next year due to global uncertainties. The benchmark 10-year bond yielded 0.49 percent on Friday, from as low as a record 0.195 percent in January.
Consumer-price gains remain elusive more than two years after Kuroda launched his quantitative-easing program. The central bank hasn't accelerated stimulus since October. Twenty-two of 35 economists surveyed by Bloomberg last month predicted the BOJ will eventually expand easing.
"The economy is recovering but only slowly, and the Bank of Japan's massive buying will continue," said Makoto Suzuki, a senior bond strategist in Tokyo at Okasan Securities Group Inc., who doesn't expect the 10-year yield to rise much above 0.6 percent. "Inflation won't accelerate to 2 percent but I expect it to be in the low-1 percent."
The following three charts illustrate the challenges Kuroda faces:

CHART 1: The yield spread between two- and 10-year JGBs is approaching the widest in 14 months as short-dated debt resist a global sell-off, reflecting investors' views the BOJ won't be exiting stimulus anytime soon.

CHART 2: Inflation expectations as measured by 10-year break-even rates have recovered this year around the world, but those in Japan remain the lowest among countries tracked by Bloomberg, and have pulled back since peaking in early May.
CHART 3: Early progress in stoking inflation evaporated with a tumble in oil prices, while wages have only shown tentative signs of picking up. Kuroda last month reaffirmed that inflation remains on track to meet the BOJ's 2 percent target around the first half of next fiscal year, which starts in April 2016.