Intel President James Steps Down to Seek CEO Role Elsewhere
Ian King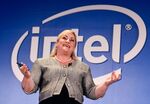 Intel Corp. President Renée James will step down to seek a chief executive officer role elsewhere, in a reshuffle that cements CEO Brian Krzanich's control over the world's largest chipmaker.
Intel's highest-ranking woman, who sent a letter to employees Thursday, didn't specify where her next job will be. She was one of three main internal candidates for the top job two years ago and was given the president role after backing Krzanich in a joint pitch to the board.
"When Brian and I were appointed to our current roles, I knew then that being the leader of a company was something that I desired as part of my own leadership journey," James, 51, said in the memo. "Now is the right time for me to take that next step."
James's departure was announced with other leadership changes that show Krzanich is putting his stamp on the company and parting ways with deputies of his predecessor, Paul Otellini. Arvind Sodhani, president of Intel Capital, will retire in January after a 35-year career with the company. Wendell Brooks, head of mergers and acquisitions, will take an expanded role to also become president of Intel Capital.
James, who spent 28 years at Intel, doesn't have a new job lined up and is leaving to carry out the search, a person with knowledge of the matter said. Krzanich asked her to stay on during a transition period, said the person, who asked not to be identified because the matter is private.
She will receive $4 million in severance if she remains through January during the transition, according to a filing.
"James didn't get the big prize at Intel," said Peter Crist, chairman of Crist Kolder Associates, an executive recruiter. "It's easier to move through the market at the senior level if you're unfettered."
Mobile Miss
In November 2012, then-CEO Otellini announced his departure and named three executive vice presidents: Krzanich, James and Chief Financial Officer Stacy Smith, marking them as the primary candidates to lead the chipmaker.
Intel's latest management changes include the departure of executives who led failed or stalled attempts to expand the company beyond its dependence on the market for personal computer processors. Mike Bell and Hermann Eul, who led the phone-chip business, are also leaving the company. The mobile efforts had already been placed in the hands of Aicha Evans, who was today promoted to the company's management committee.
Sodhani, in addition to his role in the company's venture capital arm, was Intel's principle negotiator in acquisitions that have yet to pay off. Before last month's agreement to purchase Altera Corp. for $16.7 billion, its biggest acquisition was of McAfee Inc. for $6.59 billion in 2011, adding security software.
Software, Services
Sales in Intel's software and services unit rose 1.2 percent to $2.22 billion last year, while operating profit was just $55 million. Intel said the McAfee deal was aimed at integrating stronger security into processors themselves and making computing systems safer. James rose up through the ranks at Intel to head its software unit before becoming president.
Intel's also bought Infineon Technologies AG's baseband unit in 2011 for about $1.4 billion, a move that has so far failed to give the company a foothold in mobile devices. Last year Intel lost more than $4 billion in its phone and tablet division as it paid device makers subsidies to use its chips.
The shares of Intel climbed 1.2 percent to $30.56 at the close in New York, leaving them down 16 percent this year.