Fourth of July Sunny, With a Little Bad Air From Rockets' Glare
Brian K. Sullivan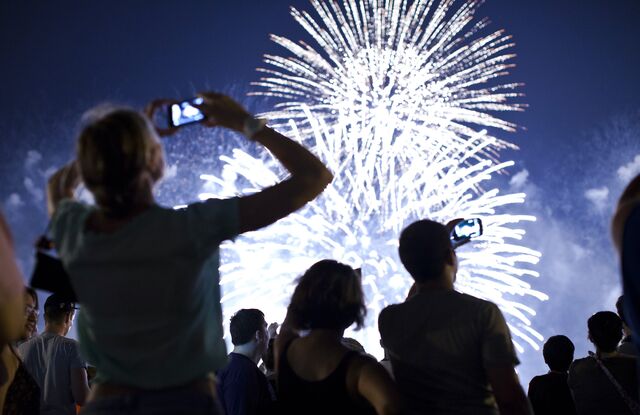 The U.S. Fourth of July holiday should be a good one for most people coast to coast, except perhaps for a little choking air in the wake of the rockets' red glare.
From New York City to Boston, high temperatures will range in the 70s Fahrenheit (low-to-mid-20s Celsius), a little below normal peaks in the low 80s, said Gary Best, a meteorologist at Hometown Forecast Services Inc. in Nashua, New Hampshire.
"It looks like a pretty nice weekend" across much of the Northeast, Best said by telephone.
The relatively benign forecast extends to most other parts of the nation, except for a few thunderstorms from Texas to Florida.
People returning to work after Wednesday's Canada Day holiday will find good weather in Toronto, Ottawa and Montreal, according to Environment Canada.
While the eastern end of the continent remains cool and mild, the U.S. West probably will broil as heat continues to build there, Best said.
Friday and Saturday, Salt Lake City may reach 98 degrees, according to the National Weather Service. Best said it's possible the city could touch 100. Las Vegas is forecast to see 105 on Friday.
Coastal Heat
Sacramento, California, which reached 99 Wednesday, is expected to cool down to the mid- to lower-90s by the weekend. Eugene and Portland, Oregon, also will be in the 90s, while Seattle lingers in the 80s. The heat will rise in southern and central California; Bakersfield may register 100 Friday and Saturday, the weather service said.
Along with the high temperatures, air quality also may suffer, at least for a few hours.
It turns out that fireworks -- both the large public displays as well as backyard shows -- can lead to lower quality in the hours after July 4, said Dian Seidel, senior scientist for climate measurements at the National Oceanic and Atmospheric Administration's Air Resources Laboratory in College Park, Maryland.
The festive explosives create fine particles people can breathe deep into their lungs and then not exhale, said Seidel said, who co-wrote a paper with Abigail Birnbaum, a NOAA intern, published in the journal Atmospheric Environment. Using data collected at 315 air monitoring sites around the U.S., the two found these pollutants peak on July 4.
'Multihour' Event
"By noon on July 5, they are back to background levels," Seidel said. "We don't see a lingering effect days after the event. It is multihour, not multiday."
Still, for anyone with respiratory problems or anyone who suffers when air quality falls, it's a good idea to take precautions, including staying indoors.
Across central Canada, the quality of the air is being affected by another source: Smoke from wildfires touched off pollution alerts across parts of Alberta and the Northwest Territories and all of Saskatchewan on Wednesday, Environment Canada said.
Some of those conditions were forecast to linger through Thursday.
One kind of smoke we can live with is from the hot dogs that will be cooked outdoors on Independence Day. But be careful. July is the No. 1 month for grill fires, according to the National Fire Protection Association.
Before it's here, it's on the Bloomberg Terminal.
LEARN MORE