Why China's Bid for Auto Self-Sufficiency May Fail
Working with foreign manufacturers lets government-run outfits get lazy
Alexandra Ho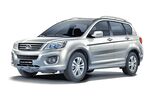 For years, what's good for General Motors and Volkswagen has been great for China's largest state-owned carmakers. In the 1990s the Chinese government required foreign players to enter joint ventures with domestic partners to operate in the country. GM teamed up with state-backed SAIC Motor; Volkswagen joined with government-controlled China FAW Group. The Western automakers got access to what's become the world's biggest auto market. Their Chinese partners got technology and half the profits, which was supposed to allow them to become global players.
As China's newly affluent consumers bought their first autos, often with a Buick or VW badge on the hood, the Chinese companies reaped hundreds of millions in profits from their privileged positions. But lately the market has changed. China's chosen champions such as SAIC and FAW are struggling as private-sector rivals Great Wall Motor and Zhejiang Geely Holding Group move faster to cater to China's accelerating demand for cheap SUVs.
The over-reliance by state-owned carmakers on foreign partners and their pricey sedans and luxury vehicles is challenging the notion that an active, autocratic state can set industrial policy and fuel growth, a model China offered as an alternative to the free-market democracies of the U.S. and Europe. "The government got it all wrong," says Jochen Siebert, Shanghai-based managing director at JSC Automotive Consulting. "The state-owned carmakers are still addicted to the easy profits from producing and selling cars for foreign brands."
China's 1994 mandate requiring foreign carmakers to form ventures at least 50 percent-owned by a Chinese partner had an explicit goal to create three or four internationally competitive homegrown auto giants by 2010. Instead, the policy has drawn criticism for shielding state-owned carmakers from competition and robbing them of the incentive to build their own brands. The government removed its target of establishing a Big Four for the industry in 2009 and set a goal for local carmakers to capture more than 90 percent of the domestic market, without a time frame. Among the reasons that will be difficult: China's carmakers continue to lack innovation and lag behind in key technologies, Miao Wei, the minister in charge of the auto industry, said at last year's National People's Congress.
Foreign brands dominate the domestic market, with a combined 61 percent of passenger-vehicle sales in May. Yet the independent local manufacturers are gaining fast, with sales at Great Wall (maker of the popular H6 SUV) and Geely up 22 percent and 40 percent, respectively, this year. The average price of the best-selling Chinese SUVs in the first five months of 2015 was 83,542 yuan ($13,459), vs. 200,500 yuan for the foreign models, according to dealership quotations compiled by Autohome, a car-pricing website. Annual output of SUVs in China should reach more than 7.0 million vehicles in 2018, up from 4.3 million last year, estimates researcher IHS Automotive.
Sales this year at SAIC fell every month but one as demand slumped for Buicks and Chevrolets. SAIC's own marques, MG and Roewe, plunged 34 percent in the first five months, in a market that grew 6.4 percent. At FAW, which also has a joint venture with Toyota Motor, deliveries fell 5.8 percent in the first five months, Merrill Lynch data show. FAW didn't reply to e-mails seeking comment.
SAIC Chairman Chen Hong defends his partnership with GM, saying it's been successful despite the slump, and his company needs to "reflect" on the poor performance of its own brands. He says Chinese consumers prefer to buy foreign in more than 60 percent of cases even if a rival Chinese brand offers a car of the same quality that costs less. Gui Shengyue, Geely's chief executive officer, disagrees. "It is not that Chinese consumers are addicted to foreign brands," says Gui, whose company plans to raise its sales forecast because of better-than-expected demand for its new models. "They would go for local ones if we develop good products."
Part of the problem plaguing state-owned carmakers is that they're headed by political appointees who care mostly about building their careers, says JSC's Siebert. There's little incentive to take risks to build their own brands, and when they report on how successful they've been, they're usually referring to their joint ventures, he says.
In contrast, Geely Chairman Li Shufu is an entrepreneur: He used to work photographing tourists and manufacturing compressors for refrigerators before entering the automotive industry in 1989 by producing motorcycles. Great Wall was founded by Wei Jianjun, who built it into China's biggest SUV maker by emphasizing discipline and frugality.
Still, there are signs the state plans to continue its strong role in car manufacturing. Miao, the industry minister, said last year that China isn't changing the cap on foreign ownership. The state-backed auto association warns that Chinese brands will be wiped out if the cap is lifted. "I don't see strong intention from the government to really force the state-owned companies to compete with foreign brands," says John Zeng, Shanghai-based managing director of researcher LMC Automotive.
—With Tian Ying
The bottom line: The average price of SUVs built by local Chinese carmakers was $13,459 in the first five months, half that of foreign models.
Before it's here, it's on the Bloomberg Terminal.
LEARN MORE